Uncategorized
1960s Handbook – The Beverly Hillbillies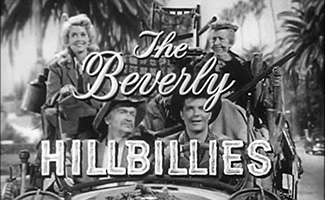 The Beverly Hillbillies, the popular TV sitcom, debuted on Sep. 26, 1962. About 35 million people tuned into CBS to view the story of the Clampetts, a likable family from the Ozark hills who became rich from oil and took up residence in a California mansion. Though critics and industry folk derided The Beverly Hillbillies as "waist-deep in corn" and possibly "the worst program, artistically, in the history of television," the show finished number one in the ratings each of its first two seasons and remained popular throughout the 1960s. Its memorable theme song, "The Ballad of Jed Clampett," was the first bluegrass single to top Billboard magazine's country-music chart.
Typical Hillbillies plots involved clashes between the Clampetts and their snobby Beverly Hills neighbors, most notably the wife of their greedy banker, Mr. Drysdale. Though he also treated the Clampetts like ignorant hicks, Drysdale declared them, his biggest depositors, "my kind of people — loaded" and spent nine seasons attempting to prevent homesick patriarch Jed Clampett from withdrawing his funds and relocating his clan back East.
According to an industry insider, the show's creator Paul Henning orchestrated a publicity campaign leading up to the Hillbillies premiere. To preserve the characters' yokel image, Henning requested that the actors who played the Clampetts "cease to exist as themselves." The strategy worked, and at public appearances the actors found themselves mobbed by fans who related to them solely as their characters.
Many cultural observers have attributed The Beverly Hillbillies' popularity to the escape it provided from race riots, assassinations, and war during the decade. "It's just for fun," claimed its first director, Richard Whorf. The show received criticism for having that fun at the expense of rural Americans, but its stereotyping was generally accepted as affectionate. By 2003, however, when CBS proposed a reality show titled The Real Beverly Hillbillies and set about recruiting a backwoods family to move to the big city, the concept was considered so demeaning that a campaign waged against the program forced the network to scrap it.
Read More