Uncategorized
1960s Handbook – Mark Lindsay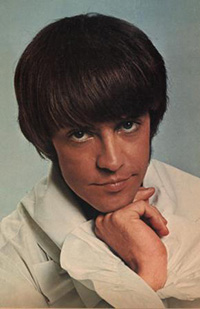 Few pop stars of the late 1960s were more visible than Mark Lindsay, the lead singer of Paul Revere and the Raiders, which shot to fame as the house band on ABC's musical-variety show Where the Action Is. Five afternoons a week, the Raiders played covers and Top 40 singles — "Just Like Me," "Kicks," "Good Thing"…  — and engaged in antics inspired by the Beatles' movies A Hard Day's Night and Help. The Fab Four connection was no coincidence. Action's producer Dick Clark marketed the Raiders as America's response to the "British invasion". With their Revolutionary War get-up and Lindsay's trademark ponytail, the Raiders certainly looked the part.
Lindsay's good looks inspired much breathless prose in 16, Tiger Beat, and other teen mags. The writer of a typical piece contrasted the "smiling, happy, dashing, gallant, laughing, care-free and outgoing" facade Lindsay maintained publicly with the off-screen "torment and confusion of a young man searching for his name and meaning in a very nameless world of labels."
During Action's two-year run, Clark kept the Raiders in nearly constant motion. By 1967, when ABC canceled the show, Lindsay and band mate Paul Revere were the only remaining members of the original five, with burnout clearly a factor in the departures. Lindsay and Revere co-hosted Clark's next venture, Happening '68, a Saturday-afternoon rock show aimed at a "hipper" audience than American Bandstand. The revamped Raiders ended up performing as many as six days a week after Clark created a weekday-afternoon spinoff called It's Happening. By some accounts, the Raiders made more TV appearances in the 1960s than any other rock band.
Happening lasted two years, but by 1970 Lindsay was focusing on solo projects. One of them, "Indian Reservation," was released as a Raiders single in 1971 and became the band's only No. 1 hit. Lindsay officially left the Raiders in 1974 and recorded sparsely after that. Now 71, Lindsay performs a few of the band's songs as part of the "Happy Together Tour" organized by two members of The Turtles, another staple of 1960s American rock.
Read More