Press
Elisabeth Moss Chats with THR Emmy Roundtable; EW Calls Betty Mad Men's Secret Hero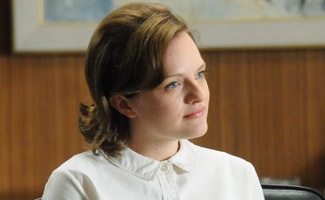 This week, Elisabeth Moss is featured in The Hollywood Reporter's Emmy roundtable, while Entertainment Weekly and New York take a closer look at Betty Francis. Plus, TheWrap predicts an Emmy for Moss this year. Read on for more Mad Men news:
• Elisabeth Moss tells The Hollywood Reporter Emmy roundtable about the best audition advice she's ever received.
• Entertainment Weekly wonders if Betty is the secret hero of Mad Men, since she's the only character "who has achieved a measure of contentment, even grace." Meanwhile, New York notes that Betty was the only one in "The Better Half' who was "notably unafraid."
• TheWrap thinks Elisabeth Moss should — and will — win the Emmy this year for outstanding lead actress in a drama.
• Jay R. Ferguson talks to GQ about "The Crash," saying, "The person that stole the night, and quite possibly the whole season, was Aaron Staton with his tap dance routine."
• Bernardo Bertolucci, speaking to Indiewire, points out that American TV shows like Mad Men are better than their big-screen counterparts today.
• Net-A-Porter conducts an interview and photo shoot with January Jones, who talks about Betty's elusive happiness.
• CarterMatt checks out a behind-the-scenes video for "The Better Half."
• The Irish Times discusses the preponderance of TV's "psychologically complex, morally ambivalent" lead characters, like Don Draper.
• For recaps and reviews of Season 6, Episode 9, "The Better Half," check out Ad Age, The Atlantic, Basket of Kisses, Entertainment Weekly, Gothamist, HitFix, The Hollywood Reporter, Indiewire, MediaPost, The Oregonian, Rolling Stone, Slate, Tom & Lorenzo, TV Fanatic, TVLine and Zap2it.
• To stay up-to-date with all the latest Mad Men news, sign up for the weekly Mad Men Memo.
Read More