Press
Elisabeth Moss Receives Critics' Choice Award Nom; Aaron Staton Talks Tap Dancing With NYT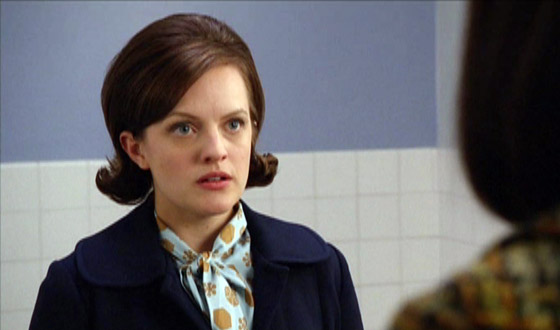 This week, Elisabeth Moss scores a Critics' Choice Television Award nomination for Best Actress, while Aaron Staton discusses his office tap dancing skills with The New York Times. Plus, check out Entertainment Weekly for a look at Jon Hamm in Clear History with Larry David. Read on for more Mad Men news:
• The Hollywood Reporter, the Los Angeles Times, CBS News, E! Online and Deadline report that Mad Men landed a Critics' Choice Television Awards nomination for Elisabeth Moss as best actress in a drama series.
• Aaron Staton talks to The New York Times about the "elaborate and angry tap dance" that Ken performed for Don in last week's episode. New York has a gif of Staton's performance.
• Linda Cardellini tells Parade she was afraid everyone would hate her because "Don [Jon Hamm] cheats again, and it's with me! It was fun to shock everyone, though!"
• The Associated Press reports that Vincent Kartheiser will play Pride and Prejudice's Mr. Darcy on stage at Minneapolis' Guthrie Theatre this summer. Kartheiser speaks with the Minneapolis StarTribune about the role and his memories of doing plays at the Guthrie as a boy.
• Entertainment Weekly presents a first look video of Clear History, a new movie out in August that stars Larry David and Jon Hamm.
• Complex names Mad Men to its list of the 50 best TV pilots of all time, complimenting the series' first episode as "a tight piece of craftsmanship."
• Billboard.com has a "resoundingly adorable" music video of Kyler England's "We Rise Like Smoke" that features the multi-faceted Kiernan Shipka.
• Christina Hendricks talks to Lucky in a behind-the-scenes video where she discusses her fashion style and when she feels the sexiest.
• Shockya.com speaks with Kit Williamson about his character, Ed, and Trevor Einhorn's John pitching "ideas together often with hilariously mediocre results."
• ScreenCrush has photos of John Slattery in Season 4 of Arrested Development.
• Hawaii Magazine reports that Vincent Kartheiser will be honored at this weekend's Big Island Film Festival.
• For recaps and reviews of Season 6, Episode 8, "The Crash," check out Ad Age, the A.V. Club, Basket of Kisses, CBS News, Entertainment Weekly, Esquire, Gothamist, Indiewire, the Los Angeles Times, the New York Daily News, Philly.com, Slate, The Star-Ledger, Time, Vanity Fair, VH1, The Wall Street Journal and Zap2it.
• To stay up-to-date with all the latest Mad Men news, sign up for the weekly Mad Men Memo.
Read More