Press
Christina Hendricks on Lucky Cover; Video of Elisabeth Moss on Jimmy Kimmel Live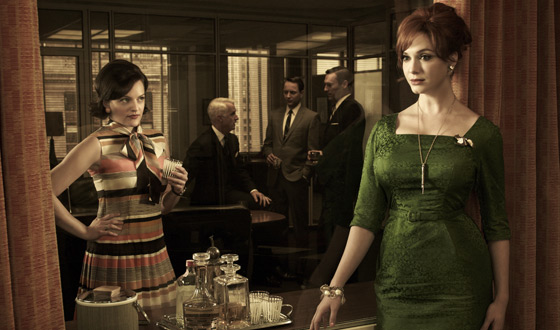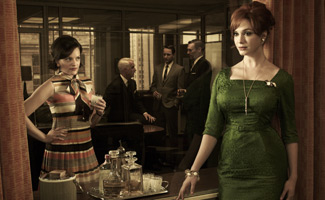 This week, Christina Hendricks chats with Lucky magazine about her own style as well as Joan's, while Elisabeth Moss reads a tweet about herself on Jimmy Kimmel Live. Plus, Linda Cardellini talks with The Hollywood Reporter about Sylvia and Don's affair. Read on for more Mad Men news:
• Christina Hendricks, gracing the cover of Lucky, shares her style secrets and says, "I would play Joan forever."
• The Hollywood Reporter has video of Elisabeth Moss in the latest edition of Jimmy Kimmel Live's "Mean Tweets."
• New York's primer on how to write a TV drama cites Mad Men for many examples, such as, "Start with an anti-hero. Give him a secret."
• The Hollywood Reporter interviews Linda Cardellini, who reflects on Sylvia's affair: "She's a cheater like Don, but she handles it differently."
• Kevin Rahm speaks with Entertainment Tonight about the merger putting Peggy back in Don's orbit. Rahm also talks to Paste about the secrecy surrounding his elevation to a series regular in Season 6.
• New York uses Mad Men's "stately, classical A-picture" storytelling style to argue that TV is very much a director's medium.
• In its "How To Design a Set" feature, New York talks to Claudette Didul about the details of Don and Megan's 1968 Upper East Side apartment.
• Teyonah Parris discusses her character, Dawn, with Rolling Stone.
• Rolling Stone wonders what Bob Benson's future holds.
• Toronto's 680 News reports that Jessica Paré has been named to Hello! Canada's list of the 50 most beautiful Canadians.
• The Los Angeles Times reports that A Young Doctor's Notebook, a BBC series starring Jon Hamm and Daniel Radcliffe, will air on Ovation later this year.
• Deadline says that Warner Brothers has bought the U.S. rights to Ryan Gosling's How To Catch a Monster, starring Christina Hendricks.
• The Times of India reports that Jon Hamm is in Mumbai filming Million Dollar Arm, in which he plays a sports agent looking for cricket players to play baseball in the U.S.
• The Film Stage has the trailer for The Congress, which features Jon Hamm's voice and will premiere at this month's Cannes Film Festival.
• For recaps and reviews of Season 6, Episode 7, "Man With a Plan," check out the A.V. Club, Basket of Kisses, CBS News, Entertainment Weekly, HitFix, the Los Angeles Times, the New York Daily News, The New York Times, PopSugar, Salon, Slate, The Star-Ledger, TV.com, TVLine and Zap2it.
• To stay up-to-date with all the latest Mad Men news, sign up for the weekly Mad Men Memo.
Read More