Press
Jon Hamm's Surprise SNL Appearance; Time Calls "For Immediate Release" Best Episode Yet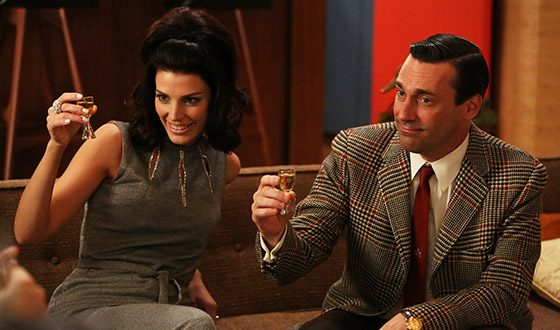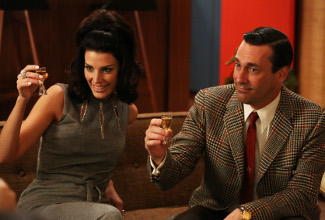 This week, Jon Hamm makes a cameo on Saturday Night Live, while Time discusses why the last episode of Mad Men was so exhilarating. Plus, The New York Times takes a look at the reality of ad agencies going public. Read on for more Mad Men news:
• Jon Hamm makes a surprise cameo on Saturday Night Live in a skit with guest host Zach Galifianakis, pulling off what The Hollywood Reporter calls "one of this season's wackiest creative fetes." Zap2it describes the skit as "wickedly brilliant."
• Time explains why they think "For Immediate Release" was "the best Mad Men episode so far this season."
• The New York Times provides historical insight on advertising firms going public in the late '60's and early '70's.
• Variety speaks with Kevin Rahm, who talks about his reaction to "For Immediate Release": "When I read it, I literally did a little dance." Talking to Rolling Stone, Rahm compares Don and Ted to Larry Bird and Magic Johnson: "Two men at the top of their class who played better when they played each other."
• The Guardian traces Peggy's evolution, with Season 6 showing her "at her most confident, both at work and in her outfit choices."
• Rich Sommer talks to New York about Harry's outburst over Martin Luther King, Jr.'s assassination in "The Flood."
• Christina Hendricks, interviewed by The Sun, talks about playing Joan: "I don't know whether I will ever get to play another character as interesting as the one I'm playing now or be able to have such great lines and scenes to do."
• The Huffington Post looks back at Vincent Kartheiser's and Jay R. Ferguson's teen idol days.
• The Baltimore Sun interviews Baltimore native Stephanie Drake, who says the clashes between her character, Meredith, and Joan make "for some really good comedic relief."
• The Seattle Times takes note of the Season 6 fashions — which are "truly swinging" — so far, while Janie Bryant talks to Women's Wear Daily about the evolving looks of the show's female characters.
• Tom Smuts, talking to the Pittsburgh Post-Gazette, says that joining the Mad Men writers' room for Season 6 "felt like magic."
• Vibe considers Mad Men one of the smartest shows of the last 20 years because "social turmoil becomes an invisible character via sly humor."
• The Greenwich (Conn.) Time discusses how the Greenwich phone book came to appear in Season 6, Episode 3, "Collaborators."
• Theater Mania has a photo of Rich Sommer and the rest of the cast of The Unavoidable Disappearance of Tom Durnin, which will open June 28 in New York City.
• Filmoria has a trailer for Sweet Vengeance (also known as Sweetwater), which stars the "gorgeous" January Jones.
• For recaps and reviews of Season 6, Episode 6, "For Immediate Release," check out The Atlantic, the A.V. Club, Baltimore Sun, Basket of Kisses, CBS News, Entertainment Weekly, HitFix, The Huffington Post, the New York Daily News, Philly.com, Rolling Stone, Time, TV.com, TVLine and Zap2it.
• To stay up-to-date with all the latest Mad Men news, sign up for the weekly Mad Men Memo.
Read More