Press
Jon Hamm on The Daily Show with Jon Stewart; Matthew Weiner Discusses Season 6 with NPR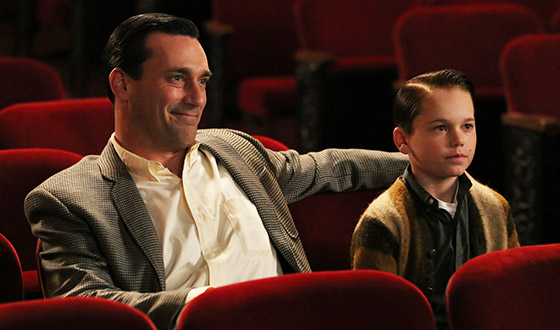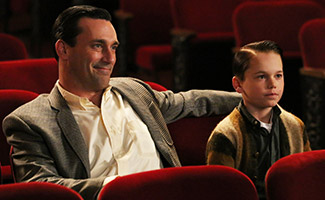 This week, EW has video of Jon Hamm chatting with Jon Stewart, while Matthew Weiner sits down with NPR and explains why 1968 is "in the top two or three worst years in U.S. history." Plus, Christina Hendricks is interviewed by ABC News. Read on for more Mad Men news:
• Jon Hamm sits down with Jon Stewart to talk baseball and secrecy on Mad Men, including Linda Cardellini's presence as Sylvia Rosen on the show.
• Matthew Weiner talks in-depth with NPR's "Fresh Air," noting that, at the beginning of Season 6, Don is "in his worst state — the way 1968 is — because it is overrunning his life and it's page 1 in the story: He's going into hell."
• Katie Couric speaks with Matthew Weiner and the Mad Men cast on her TV show, Katie, noting the drama "has reset the standard for quality television, made the Sixties cool again and captivated the country."
• ABC News chats with Christina Hendricks about the chemistry between Joan and Don.
• Kiernan Shipka discusses her personal fashion style with People, describing it as "modern and elegant with a little more of a twist." Also, Zooey magazine features Shipka in the pages of its Spring 2013 issue, and Just Jared Jr. shares some excerpts from the article.
• Entertainment Weekly looks back at other Mad Men episodes, like last week's "The Flood," centered around an historical event.
• Reuters reports that Christina Hendricks, January Jones, Elisabeth Moss, Jessica Paré and Kiernan Shipka have been honored with the Lucy Award for Excellence in Television by the Women in Film organization.
• Listen for Jon Hamm's voice next year in Minions, a Despicable Me spin-off, Deadline says.
• The Fort Worth Star-Telegram interviews John Slattery, who says directing Mad Men "has given me deeper insight into the show: into how well-constructed it is, into how good everybody is at their jobs."
• Jessica Paré professes her love of Los Angeles to Los Angeles Magazine, asserting, "I don't think I'll ever live anywhere else."
• The Atlantic finds The New York Times article from 1968 reporting on the revelation of Martin Luther King, Jr.'s death at an advertising awards ceremony, as happened in "The Flood."
• Claudette Didul-Mann tells Mercedes-Benz that her job as Mad Men's set designer is "a bit like being a detective and archaeologist in one."
• RedEye thinks Mad Men and Breaking Bad are in a "two-way race for the best show of its era."
• PolicyMic says Mad Men is really about Don "leading us down the rabbit hole of what the aging process is."
• For recaps and reviews of Season 6, Episode 5, "The Flood," check out The Atlantic, A.V. Club, Basket of Kisses, CBS News, Entertainment Weekly, the Los Angeles Times, Newsday, The Oregonian, Philly.com, Slate, The Star-Ledger, TV.com, TV Fanatic, TVLine, Vanity Fair and Wired.
• To stay up-to-date with all the latest Mad Men news, sign up for the weekly Mad Men Memo.
Read More