Uncategorized
1960s Handbook – Roger DeKoven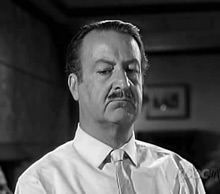 Roger DeKoven was a character actor whose career on Broadway and in radio and television spanned seven decades. Among his high-profile credits were the widely praised Against the Storm, a thinking-housewives' daytime radio drama that debuted in 1939, and the original 1964 Broadway production of Funny Girl, in which he played the great showman Florenz Ziegfeld Jr. to Barbra Streisand's Fanny Brice.
As did many New York actors of his generation, DeKoven supplemented his income from stage work with appearances first in radio and later on TV. In Against the Storm, he played lead character Jason McKinley Allen, a sensitive college professor. The 15-minute serial had its share of soap-operatic situations, but its scripts also reflected on the issues of the day. After the Second World War broke out but before the United States became involved, for instance, an entire episode was devoted to the professor's ruminations on the futility of armed conflict. Against the Storm won a 1941 Peabody Award for Outstanding Entertainment in Drama — the first, and for years only, daytime show to earn the honor. Procter & Gamble canceled the show a few months later, though it was revived two more times.
In the 1950s, DeKoven's career suffered a setback when he was one of 151 entertainment professionals cited in the infamous Red Channels report for alleged pro-communist activities. Red Channels was distributed to entertainment executives and Madison Avenue advertising firms, and according to many media historians directly resulted in the blacklisting of people named in it. The accusations in DeKoven's case involved his attendance at a 1949 conference promoting world peace. He resumed his media and stage careers only after signing a statement declaring that he abhorred communism and didn't realize the conference was a communist front. DeKoven later blasted the authors of Red Channels for spreading "the most vicious, un-American kind of slander."
After Funny Girl closed in 1967, DeKoven went both highbrow and lowbrow, acting in revivals of plays by George Bernard Shaw and Jean Giraudoux, as well as beginning a run as Dr. James Spencer on the TV soap opera Days of Our Lives. He played his final stage role off-Broadway in 1986 and the same year appeared with Robin Williams in Seize the Day, a filmed adaptation of the same-named Saul Bellow novel.
Read More