Uncategorized
1960s Handbook – Rosemary's Baby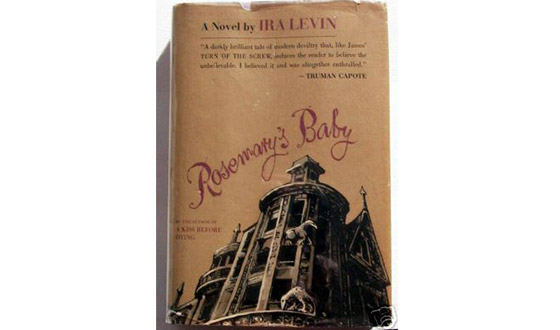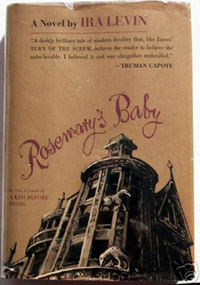 In Rosemary's Baby (1967), Ira Levin's gothic novel set in Manhattan during the mid-1960s, a young woman named Rosemary and her husband, Guy, move into a historic apartment building unaware that a coven of witches operates within its confines. After Guy's stalled acting career suddenly takes off and Rosemary becomes pregnant, she begins to suspect that their seemingly benign neighbors — an elderly couple — have convinced Guy to make a pact with Satan to achieve success. Rosemary believes that Guy's deal involves her unborn baby (she's right but can't prove it), and she becomes increasingly paranoid as people in her life die and her health deteriorates.
Acclaimed horror novelist Stephen King once praised Levin as "the Swiss watchmaker of the suspense novel" for his tight plotting, but Levin's prime achievement is how palpable he makes Rosemary's growing despair with each failing attempt to overcome her predicament. The author adds tension by rarely revealing to the reader any more than Rosemary knows herself, and heightens the overall sense of imbalance by weaving her seemingly fantastical notions with everyday details of 1960s New York: a transit strike, Vidal Sassoon haircuts, Rudi Gernreich fashions, the mayoral race between Congressman John Lindsay and William F. Buckley Jr., and Pope Paul VI's appearance at Yankee Stadium. With the book's focus on Rosemary's fight for control over both her body and her unborn baby, Levin also touches on the sexual politics of the day.
The hardcover edition of Rosemary's Baby spent the better part of a year on the New York Times bestseller list, and the paperback — whose release coincided with director Roman Polanski's 1968 film adaptation — sold millions of copies. Levin's later credits include the novel The Stepford Wives and the long-running Broadway play Deathtrap. In the 1990s, the author expressed regret that Rosemary's Baby had contributed to a revival of interest in Satan and the occult, paving the way for The Exorcist and The Omen. However, a few years later, he revived Rosemary and her baby (as an adult) in the sequel Son of Rosemary. It was one of his few books that wasn't a hit.
Read More