Uncategorized
The Mad Men Fashion File – In Your Dreams
What's the easiest way to show characters in hazy states of reality? Dress them normally…then surround them with people wearing pajamas. That's the brilliant tactic costume designer Janie Bryant uses in this speed-fueled episode, where most events could be hallucinations, and even by the end, some did-they-or-didn't-they moments still hover. (Hey Ken, can you really tap dance?!)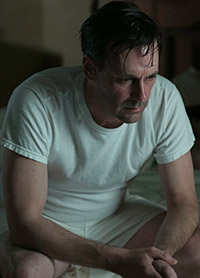 The nightgown-and-day-clothes juxtaposition starts early: Don stands outside Sylvia's door, fully dressed. He even wears a hat and overcoat. Meanwhile, Sylvia's on the other side of the door wearing a pink quilted robe and a sleepy blue turban. Next, Young Dick Whitman and his Evil Stepmother are covered up and conservative, while surrounded by prostitutes in silk nighties and open kimonos. This motif gets even more dizzy when the scene is inverted so far that Young Dick is dressed — and wearing suspenders — in Aimee's bed, while she walks around in a slip. Later, Sally's wearing a pink nightie when her reality is totally tipped over by Fake Grandma Ida, who's fully dressed, also with an overcoat and hat. (Is the similarity to Don and Sylvia earlier just coincidence?) And after Don collapses, we see him in his undershirt — undressed, but not exactly pajama-ed — next to Megan's bright green negligee. Sitting up in bed, Don looks like he's in limbo. Is he dreaming? Is he dying? Is it daytime? Is it night? The T-shirt could be worn at any time…and just like Ginsberg's Cheshire Cat reference, Don's consciousness doesn't know if it's coming or going.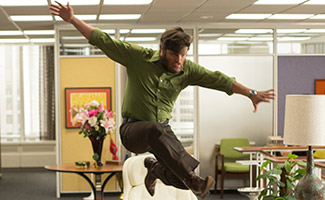 But although Alice in Wonderland is always a good touchstone for '60s drug use, there's another children's story we need to examine this week: Peter Pan. Look at Stan literally flying around the office, then under the apple, with his forest green shirt and a tie slung around his forehead like Peter's headdress…and the other boys in his "tribe" shooting "arrows" at him! Meanwhile, the girl who ultimately comforts him is named Wendy, and yes, she's basically wearing a nightgown.
Then there's Peggy. Oh, Peggy… I was rather crushed that Stan and Peggy didn't fall madly in love in this episode, but she looked so adult in that black and white shift dress, it was clear this time they didn't really match up. You know what Peggy did match, though? Ted's office. Check out the striped peach dress she wears while comforting Ted after Frank's death. It's the exact same color as the artwork on his wall. Ted matches the office, too — once again, his tie is the same shade of brown as the wood paneling, and so are his pants. This team is one shopping trip away from His & Hers power suits.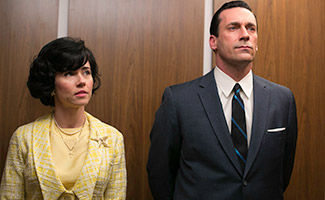 Jumping back to Sylvia: She wears three costumes in this episode, and in each of her scenes, she gets a little more dressed. When we first see her, she's in a robe. Next, she's in a casual sleeveless top and skirt. And by her last scene, Sylvia is in full armor: A tweed jacket, a matching shell, a skirt, a brooch, a helmet of hairspray. Likewise, Don's ready for workplace warfare in a sharp suit. As they're both finally dressed and standing in the stark elevator lights, it's clear their dream liaison is over. But when Sally talks to Don on the phone at the end of the episode, she's still in a nightgown…
One final thing: Dawn's pink gingham dress fit her beautifully, and it's also extremely on trend. Prada sent a series of pastel-checked dresses with Grace Kelly silhouettes down the runway this spring, and now everyone from Nanette Lepore to American Apparel has something gingham available. But if you'd rather hold out for Sally's white dotted trench coat, try this ASOS jacket instead.
Read More