Uncategorized
The Mad Men Fashion File – True Colors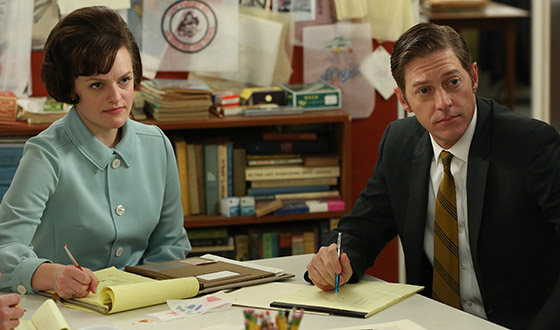 Ted asks Peggy, "First day of school. You nervous?" and, in a sea foam suit, she is clearly ready to conquer. But Ted is also dressed to impress, at least for astute Fashion File fans. We know characters often excel at SCDP when costume designer Janie Bryant dresses them in costumes that match the office. (Peggy was literally consumed by her work last season when her dress and the couch were almost identical.) Now check out Ted's ensemble in the conference room: He sports a sharp black suit and a shirt so crisp and white, it must be brand-new. Then there's his tie, which blends beautifully with the room's wood panels, a fact that's highlighted even more by his seat on the cabinet against the wall. Pete may have gotten Ted's chair, but Ted went and created his own throne. (Ted also gets the "Best Dressed" award from me for his flawless aviator jacket and sunglasses, both of which are still quite chic today.)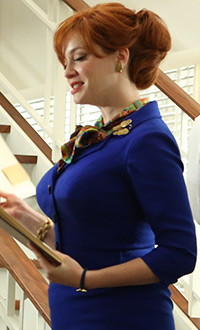 Other office observations: Peggy's aqua suit is a pastel version of Stan Rizzo's bluish-green work shirt; hopefully their color-coordination means they're friends again. Ginsberg's also got a deep green skinny tie, an accent in his costume that (literally) ties him to SCDP. Meanwhile, the two CGC creatives wear slashed ties and button-ups that coordinate with each other, but nobody else. Clearly, these two agencies aren't a unified team just yet. And check out Joan in her first scene: She's a beacon in a royal blue dress with matching pumps, in contrast to the people swirling around her wearing green. It's a cool visual effect, and also, it shows that blue and green motif again this season. The coat Joan later wears over her cobalt dress is also bright green. Most Mad Men couples break up, but at least blue and green have everlasting love.
Another color getting a workout in this episode is red. It's Sylvia's sexiest shade, and the hue tying her most directly to the prostitutes from Don's childhood. We first see Sylvia in a red-orange quilted robe and a red scarf turban. Her next red infusion, the Saks Fifth Avenue dress, is where things get really interesting. "You are for me. You exist in this room for my pleasure," says Don, and boom! Red becomes the official color of female objectification.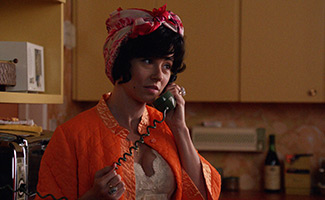 Sylvia's so conflicted and bored that she might have been okay with Don's game — if only she got to keep her book. Alas, The Last Picture Show is taken away, and this marks the second time Don's read a book tied to Sylvia on a trip. You can't get more escapist fantasy than that. However, his flight with Ted is anything but paradise. Pete says Ted can fly his mother to Hell — but he can't, because Don already took the seat! Also: The floral dress and matching coat that Sylvia wears into and out of the hotel is divine. It's luxurious, it's grown-up, and it's about as far from tight red dresses and black-and-white animal prints as you can get. If we need any more proof that Sylvia is done with Don, she leaves the costume he assigned her — the scarlet dress — on the suite's unmade bed. When Sylvia and Don leave room 503, she doesn't look back, but he does.
There's a bit of navy blue happening, too. Peggy wears it when she confronts Don about his impromptu drinking game, and her suit really means business. The white buckles on top and the wave print in the skirt are clever, since after all, Peggy's having a bumpy ride in this episode, but she's strapped in and ready to stand strong. Megan's also wearing navy blue when she chats with Don about going on vacation. She's in an embroidered tunic and he's in a crisp shirt and tie — they may be sitting on the same couch, but it doesn't take a couples therapist to realize these two are miles apart. The other navy character is Bob Benson, and the red, white, and blue costume he wears to visit Joan (complete with matching football) is pure Homecoming King. While sports are considered the national pastime, let's face it — getting ahead at the office is an American Dream, too.
One more color we need to talk about: Yellow. Megan's wearing bright yellow while sitting on the bed crying, watching news coverage of Bobby Kennedy's assassination. Ted's secretary Moira wears pastel yellow while demanding that Joan include her in the reorganization plans. And Pete's mother wears mustard yellow while wandering, disoriented and demanding, through his apartment. Yellow is also the color of margarine, and you know what Don says… "No one prefers margarine."
Read More