Uncategorized
1960s Handbook – The Graduate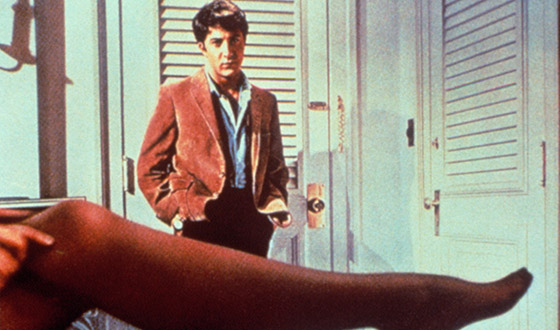 The Graduate, a landmark satirical movie that premiered in 1967, concerns Ben Braddock (Dustin Hoffman), a recent college graduate who loses his virginity to his father's business partner's wife (Anne Bancroft) then falls in love with the couple's daughter (Katharine Ross). Directed by Mike Nichols and with pitch-perfect dialogue by Buck Henry, the film struck a chord with youthful audiences, who related both to Ben's disillusionment with his parents' materialism and his inability to conceive of an alternative. Many reviews praised The Graduate for its sophisticated blend of irreverence and poignancy, and more than a few critics declared it a turning point in American cinema.
Bancroft played the role of Mrs. Robinson with such obvious glee that the character's predatory behavior received more attention than the interior melancholy that prompted it. Reactions varied depending on the reviewer and the publication — Playboy magazine, for instance, applauded Mrs. Robinson for doing Ben the favor of seducing him, and the movie itself for providing the "funniest moments of anguish ever filmed to commemorate the decline and fall of a boy's burdensome virginity."
The Graduate's two most famous lines are short and to the point. The first is one adult's single-word advice about where the future lies: "Plastics." Ben, framed by the crook of Mrs. Robinson's bent knee, plaintively utters the second: "You're trying to seduce me, Mrs. Robinson. (Beat.) Aren't you?"
Hoffman was reportedly paid $17,000 to co-star in The Graduate, which became by far the highest-grossing U.S. film produced in 1967. (Adjusted for inflation, The Graduate still ranks among the top-25 moneymakers of all time in the U.S.) The film was nominated for seven Academy Awards, but only Nichols took home an Oscar, for Best Director.
Two songs of the folk-rock duo Simon and Garfunkel, "The Sound of Silence" and "Mrs. Robinson," figure prominently in The Graduate, although neither was written for the movie. "The Sound of Silence" had already been a chart-topping hit, and the tuneful, nostalgia-tinged "Mrs. Robinson," was originally titled "Mrs. Roosevelt" — for Eleanor, the former First Lady. According to Peter Bart in a 2005 Variety article, Simon played a few notes for Nichols of a song he'd written about the era of Mrs. Roosevelt and Joe DiMaggio, but said that it wasn't for the movie. Nichols said he told Simon, "It's now about Mrs. Robinson, not Mrs. Roosevelt," an observation that clearly resonated not only with Simon but also with millions of fans.
Read More