Uncategorized
The Mad Men Fashion File – Two for One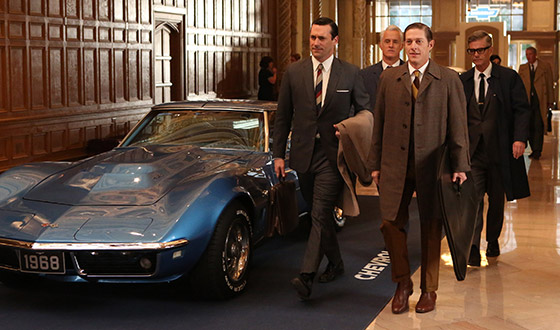 Peggy and Ted's kiss. The Jaguar and Vicks disasters. The Merger. This episode was so crammed with plot points, you could almost get dizzy — if it wasn't for costume designer Janie Bryant finding a way to keep us focused through visual cues. How? She doubled up, dressing characters with key connections in similar outfits to help emphasize important themes.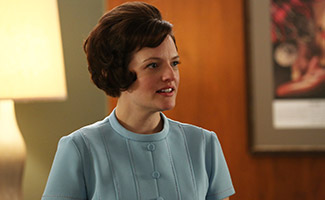 My favorite example is halfway through, when Joan confronts Don with, "Just once, I'd like to hear you use the word 'we!'" She's wearing a jade green dress with short sleeves, buttons down the front, and a slim belt at the waist. A few scenes later, Ted Chaough kisses Peggy, who's wearing a powder blue dress with short sleeves, buttons down the front, and a slim belt at the waist. It's a subtle way to tie them together. While Joan once used her sexuality to get ahead, Peggy did the opposite and relied solely on her intellect. Now, they're in opposite positions: Joan is running the office and even barking out orders to the other male partners, while Peggy's getting kissed by her boss and liking it. It doesn't help that Peggy's actual boyfriend, Abe, is wearing the ultimate blue-collar uniform — denim overalls sans shirt — while she's in buttoned-up dresses and super-girly nightgowns. The clash in their relationship continues, and it's reflected in their clothing.
Speaking of nightgowns, how spectacular was Trudy Campbell's? When she got out of bed and started swirling around in that deep pink chiffon, I expected a jazz quartet to start playing in the background! The carefree princess vibe of that first costume was completely deflated by her second — a no-frills pink dress topped with a checked coat that played against the busy kitchen wallpaper. Add the giant roosters on every wall, and it begins to suggest a coop: confining, but important to protect. Though Trudy's kitchen costume doesn't particularly tie into Pete's, it does serve as a double for her earlier pink costume. The expensive but flat shift dress stands for the reality of Trudy's marriage; the gossamer night dress is the fantasy she still sometimes believes. (Trudy's nightgown wasn't the only glimpse of bedclothes we got in this episode. Megan and Arnold Rosen both wear bathrobes — a neat coupling, since they're both being betrayed by their spouses.)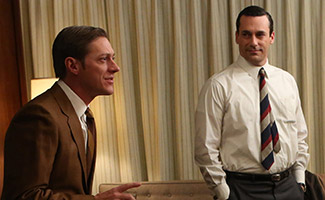 In the most unexpected example of costume doubling, Ted and Don are each other's evil twins when they sit at the Detroit bar and forge an uneasy alliance. Don's color-story is blacks and whites while Ted sticks with browns and creams, but at the bar they're both wearing yellow shirts underneath plaid, and they've both got the same devious look in their eyes. The next scene has Don and Roger squaring off with Ted and Jim, and going tit-for-tat in their costumes: The Creatives have their slim suits and diagonally-striped ties; the Account Men have their navy blue coats and their silver hair. And if you look carefully, you'll see something unusual: Don's tie has a little bit of brown in it. It's the same tie he wears in his "reveal" to Peggy, indicating that, yes, Don and Ted have agreed on something pretty big.
One more thing about that big "reveal" scene (Surprise! You're working for me again!) and Peggy's wardrobe in it. She's wearing the purple dress with the plaid pussybow, a costume we've seen once before… during "Collaborators," when she uses Stan's inside info to help CGC land Heinz. In that episode, she was leapfrogging over Don. In this one, he's pulling her right back down underneath him.
Oh, and if you can't get Daisy's flight attendant costume out of your head, you can find them everywhere on eBay, and thanks to their industrial strength polyester fabric, there are many still in fantastic shape. Wear them with a simple high heel, loose hair, and Ray-Ban shades, and you've got a thoroughly modern outfit with an authentic retro flair. Fasten your seatbelts!
Read More