Uncategorized
The Mad Men Fashion File – Match Point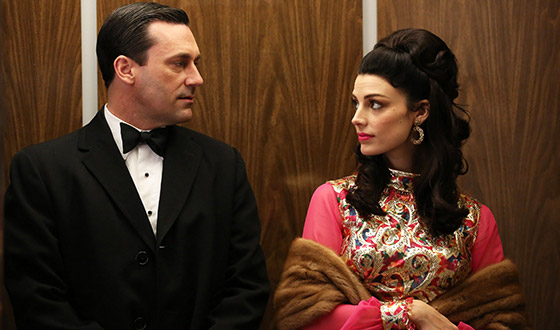 The floodgates of social upheaval open after Martin Luther King Jr.'s murder, but the Mad Men characters don't respond by digging out their raincoats and galoshes. Instead, costume designer Janie Bryant has them respond to the turmoil in more subtle ways — some by digging into their signature looks and some by completely subverting them.
We begin with Peggy, who's framed in her potential new apartment just like Don's often captured in his office: Facing the window and viewed from back. Peggy's in a snazzy golden dress, and she's looking optimistic and professional. Abe wears a black leather jacket with a pop of red plaid. There's no rule that says you have to dress like your partner to be happy, but in an episode that's all about going two-by-two into a brave new world… Well, when the man and the woman literally don't match up, you have to wonder.
Speaking of literal match-ups, Bobby Draper is having a hard time with them. His cardigan's blue, exploding pattern makes him look like Wreck-It Ralph, trying desperately to bust out of his neat and tidy surroundings, where he's discovered that the appearance of perfection falters if you look close enough. And he's even more conflicted with that blue swirly sweater in the kitchen, when Sally wears a loud red plaid and Betty's in a yellow and purple paisley. Oh, and the kitchen's painted green. If you're not already dizzy trying to navigate the messy dynamics of the Draper/Francis family, you will be just by looking around the dinner table. Something to consider: In the next Francis kitchen scene, when the kids are with Don and it's just Betty and Henry, Betty's costume matches the room perfectly. It's just when she has to be a mother that things seem to go askew.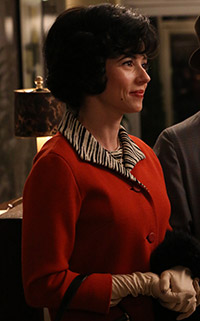 There was also a different kind of match — a shouting match — happening between Pete and Harry in the SCDP office. It was amusing to watch Cooper thrown into the role of referee, and even more amusing to look at the color stories of the two contenders: Pete in deep blue, gray and black tones, and Harry in mustard and brown ones. They couldn't have been more opposing if they'd been wearing Duke and UNC basketball jerseys. There's another fun mismatch that happened in the office: Joan's black and red houndstooth dress pressed up against Dawn's muted blue coat. It was an awkward hug made even more out-of-place by the aesthetic clash, a contrast made even more stark by the fact that when Peggy hugged her secretary, Phyllis, their costumes were well-coordinated.
This episode's costumes also triggered some strong emotional responses: When Betty pulled the jeweled evening dress from her final year as Don's "perfect" wife out of her closet and held it in front of her nightgown, we let out a big, sad sigh. When Peggy appeared in her cute striped sweater and pants — Pants! Peggy's wearing pants! — we cheered a little for her continued upward mobility (and thought,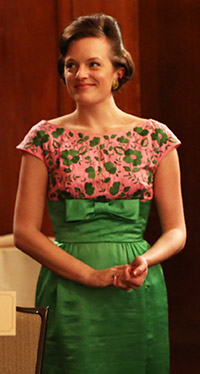 once again, that maybe her days with Abe are numbered, despite his remark about children and his complete oblivion to Ted Chaough's total and complete Peggy crush). And when Sylvia wore a red suit with black-and-white zebra print, all pressed neatly underneath her pearls and gold cross, we laughed. This is, after all, the woman so wrapped in her own contradictions that she's almost immobilized by them. How better to show that in a two minute scene than by putting her in a modest suit covered in sexy animal print?!
If you were intrigued by Peggy's green-and-pink cocktail dress, you're not alone. Designers Marc Jacobs and Marni made modern versions of the look this season. Joan's blue evening dress appeared briefly but totally stole the show — you can try Catherine Malandrino's version at Rent the Runway (it's $75!) and accessorize with lots of rhinestones to channel your inner bombshell. And Janie Bryant embroidered Megan's metallic jacquard dress with giant plastic beads she found at a fabric upholstery store — take a cue from her and you can turn any dress into a red carpet smash.
Read More