Six Ways to Get Something More From Mad Men Every Week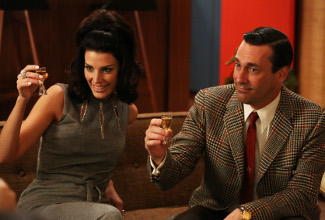 Feel like you can never get enough Mad Men? Check out these six ways to enhance your Mad Men Season 6 experience week after week:
1. Behind the Scenes Videos: Interviews with creator Matthew Weiner, costume designer Janie Bryant, actor Jon Hamm and the rest of the cast.
2. Episode Photos: Snapshots capturing signature moments from each Mad Men episode.
3. Exclusive Q&As: One-on-one interviews with the talent. So far this season: Matthew Weiner, Jon Hamm and Elisabeth Moss; next up, Vincent Kartheiser.
4. The Mad Men Fashion File: Fashion blogger Faran Krentcil's analysis of designer Janie Bryant's fashion choices.
5. 1960s Handbook: A weekly in-depth look at a cultural milestone referenced in the episode.
6. Ultimate Fan Games: Trivia quizzes that test your recall on what happened and who said what.
Also, be sure to check out the full episode of the Mad Men Season 6 premiere online now through Tue., Apr. 30.
Read More