Press
Brian Williams Interviews Mad Men Cast; Matthew Weiner, John Slattery Chat with CBS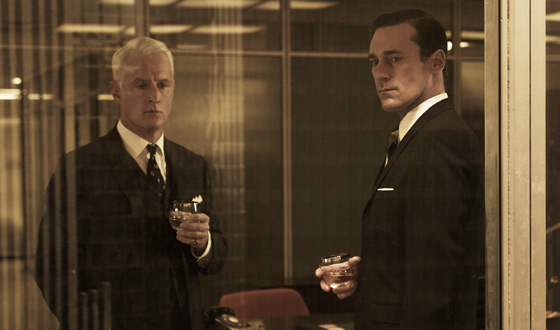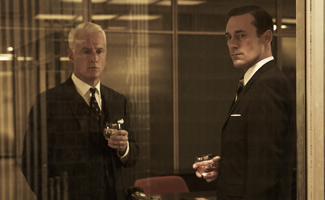 This week, NBC's Brian Williams moderates a Paley Center panel of Matthew Weiner and several members from the Mad Men cast, while CBS This Morning speaks with Weiner and John Slattery. Plus, Christina Hendricks visits The Daily Show with Jon Stewart and January Jones jokes around on Late Night with Jimmy Fallon. Read on for more Mad Men news:
• NBC anchor Brian Williams speaks with Mad Men's cast and Matthew Weiner at the Paley Center, and The Huffington Post and Elle report on what everyone said. Hypable has video of the full panel, plus some commentary.
• Matthew Weiner and John Slattery visit CBS This Morning, where Weiner asserts, "Everything is about the story on the show. It's not really about the period."
• Christina Hendricks chats with Jon Stewart on The Daily Show about how Mad Men addresses the consequences of characters' actions.
• Check out video of January Jones' appearance on Late Night with Jimmy Fallon.
• Jessica Paré also shows up on Late Night with Jimmy Fallon and makes a guest appearance on The View this week.
• Jon Hamm will host the ESPYS this July, and New York thinks "maybe it's time to just declare Jon Hamm the host of everything." Watch Hamm make the announcement on Live with Kelly and Michael.
• The New York Times further explores whether Henry Francis, as an employee of the city, could have lived outside the city.
• Us dubs Rich Sommer, Jay R. Ferguson, Ben Feldman, and Aaron Staton the "Casual Cool Quartet" and interviews the Mad Men actors about their personal styles.
• The Associated Press quotes Matthew Weiner about Don's journey to "confront what is a problem that's following him around. It might actually be him."
• New York reports that Elisabeth Moss will be a guest voice on FOX's The Simpsons this fall.
• Mediaite covers this week's "Matthew Weiner and the Wives of Don Draper" panel, featuring Weiner, January Jones and Jessica Paré, and calls the event "stellar."
• John Slattery speaks with The Hollywood Reporter and the Los Angeles Times about the appeal of starring in Bluebird, an independent film that debuted at the Tribeca Film Festival last weekend.
• Indiewire has photos from John Slattery's Bluebird, while The Hollywood Reporter's review says, "Audiences who know Slattery only as cocky, unencumbered Roger on Mad Men will find a more sober persona in his lived-in character here."
• New York admires a recent fashion choice by Kiernan Shipka and thinks the actress "resembled a younger Betty Draper."
• Slate explores the difference between ketchup and catsup, à la Peggy's Heinz pitch.
• New York interviews Marten Weiner (Glen), who says that his favorite character on the show is the "cool and mysterious" Don.
• Admitting she's biased, Jessica Paré tells Zap2it why she thinks Mad Men is so good: "It's grittier, and with more depth and intelligence than most things."
• TV.com wonders what's up with Bob Benson.
• The Huffington Post points out that, in the most recent Mad Men episode, Ted Chaough ordered a drink that was invented for an episode of NBC's 30 Rock.
• Indiewire compares Mad Men to Douglas Sirk's films, with the "small visual/thematic touches, not to mention a judiciously deployed flair for the type of melodrama for which Sirk was famous."
• MediaPost cites Mad Men as an example of "water cooler TV that are thriving and growing their audience."
• PolicyMic explains three ways that Mad Men has re-established "a standard of excellence in the world of scripted series TV."
• For recaps and reviews of Season 6, Episode 4, "To Have and To Hold," check out Ad Age, The Atlantic, Basket of Kisses, CBS News, Entertainment Weekly, Esquire, HitFix, The Huffington Post, the Los Angeles Times, Slate, The Star-Ledger, Time, TV.com, TVLine and Zap2it.
• To stay up-to-date with all the latest Mad Men news, sign up for the weekly Mad Men Memo.
Read More