Press
Jon Hamm Heads to Sesame Street; Alison Brie in Esquire Photo Shoot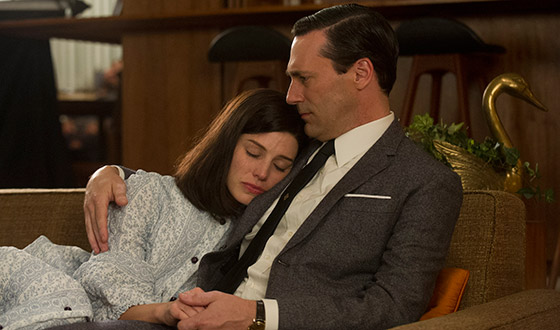 This week, Jon Hamm spends time with Elmo on Sesame Street, while Alison Brie tells Esquire what she loves (and poses for a photo shoot while she's at it). Plus, The New York Times takes a closer look at the historical accuracy of Henry Francis' job. Read on for more Mad Men news:
• New York chronicles Jon Hamm's visit to Sesame Street as part of his "ongoing quest to conquer all territories through peaceful, handsome dominance."
• Esquire does a photo shoot with Alison Brie and asks about some of her favorite things, which include: "Getting a script in the mail from Mad Men."
• The New York Times explores how Henry Francis could work for New York City Mayor John Lindsay, yet not run afoul of residency requirements by living in Westchester County.
• "I think she feels she's got it all, which is always a worrisome position for someone to be in," Jessica Paré tells The Hollywood Reporter about Megan in Season 6.
• Janie Bryant talks to GQ about putting together Pete's "dashing" new Season 6 look.
• The Financial Times interviews Vincent Kartheiser, who talks about developing Pete's voice: "There's a certain timbre to the voice that people just don't have any more. There was a formality."
• "All hail Trudy Campbell!" salutes The Huffington Post, pleased that Trudy read Pete "the riot act like a scorned wife on Mad Men never has before."
• Forbes speaks with Mad Men's set decorator about the challenges and pleasures of "creating the world of Don Draper."
• New York gets tips from Mad Men's head makeup artist and finds out there's a specific reason Peggy's eyeliner looks "kind of crooked."
• The Hollywood Reporter discusses Los Angeles standing in for New York City in TV shows such as Mad Men.
• Made Man has a photo gallery and interview featuring Christina Hendricks, who talks about the Mad Men scene that really stood out for her. Hint: it's from Season 1.
• Alison Brie chats with Made Man's Speakeasy about fans surmising that her most well-known characters, Trudy and Annie from NBC's Community, are somehow related. USA Today enjoys the interview. Brie also imitates some popular internet memes for Made Man and tries to recreate some "unsexy" .gifs.
• The Calgary Herald chats with Brian Markinson about playing Dr. Arnold Rosen, "a good man doing something worthwhile."
• Indiewire predicts that Mad Men is a "lock" for a best drama series Emmy nomination.
• Mad Men is No. 4 on Paste's list of TV's most shocking deaths because of Lane's suicide.
• Slate compliments Jon Hamm's appearance in the season finale of FX's Archer: "Hamm's comic timing is just so perfect, and the way that he read the canned arch-villains' lines was so terrifically deadpan." Geeks of Doom gives "kudos to Jon Hamm, who gets to again remind the general public of how great of a comedic actor he is."
• The Hollywood Reporter has the poster for Bluebird, a film starring John Slattery that will screen at this month's Tribeca Film Festival.
• See Alison Brie in the trailer for The Kings of Summer.
• For recaps and reviews of Season 6, Episode 3, "Collaborators," check out Entertainment Weekly, Grantland, HitFix, the Los Angeles Times, Newsday, the New York Daily News, Philly.com, Salon, Slate, Time, TV.com, TVLine, VH1, The Wall Street Journal and Zap2it.
• To stay up-to-date with all the latest Mad Men news, sign up for the weekly Mad Men Memo.
Read More