Uncategorized
Q&A – Jon Hamm (Don Draper)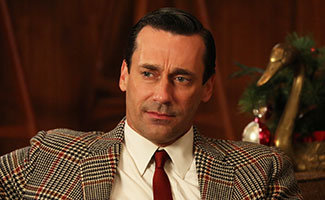 In this interview, Jon Hamm (Don Draper on AMC's Mad Men) discusses the nature of change and his biggest hope for his character this season.
Q: What's the key to bringing new energy and layers to Don Draper after five seasons?
A: My global approach to acting is being true to the character and the character's situation and the character's background and ever-changing circumstance. I think [Series Creator] Matthew Weiner is very wise to have set the show in the time that he's set it in because things are constantly changing anyway, and it's kind of already there in the landscape.
Q: Season 5 ended on a very ambiguous note. What was your reaction when you read the script for that last scene?
A: I love the phrasing of it. It wasn't, "Are you single?" It wasn't, "Are you by yourself?" It's, "Are you alone?" And that can mean so much, honestly. It's a very rich and almost gloriously obscure question. There's a lot of ways to answer that question because there's a lot of ways to interpret that question…
Q: Matthew Weiner says Season 6 is partly about whether people can truly change. What's your take on that?
A: I think that one of the things that we've tried to play up a little this season is what makes Don do what he does. And I think part of it is his house is built on a very flawed and unstable and damaged foundation, and, you know, you've got to fix the foundation before you fix the house or you're going to have the same problems… My hope for Don is that he can somehow identify and fix that foundation, and I think that might be what people respond to the most — that hope that this person can be redeemed.
Q: Megan has introduced us to new sides of Don. What's it like working with Jessica Pare?
A: Coming into an up-and-running show and being a new kid and being thrown right into it is challenging under the best circumstances, and Jessica handled it great. She ingratiated herself to everyone in the cast and it was a pleasure… That's nice because we do have a lot of scenes together, and it would make the days a lot longer if that wasn't the case.
Q: How much of Don and Megan's struggles are specific to the '60s time period?
A: I think it's a little more extreme than it would be now. But I think in any relationship…there are moments when one party wants something that the other party doesn't. And that observation is evergreen. I think if you're the President and your wife does something that you don't want to do, you still have to take it under advisement. That's part of being in a relationship… I think Don slowly…realized that his fantasy of having his wife at work to kind of constantly bounce off of him wasn't going to come to fruition. His wife wanted something different. And he either had to deal with that or deal with the consequences of not.
VIDEO: Inside the Season 6 Premiere, "The Doorway"
Q: What's your feeling on Don's proclamation, "What is happiness? It's just another moment before you need more happiness."
A: I'm of two minds about that… Ambition is what drives a lot of people, and I'm certainly ambitious in some way but too much can be too much… I don't know if the whole hard-charging, ego-maniacal version is appropriate, but I do understand that sense of not resting on your laurels.
Q: Don's style has stayed pretty steady through the seasons. Do you ever wish he'd cut loose and embrace the funkier fashion of the later '60s?
A: No. [Laughs] I don't think that's Don. We've seen Don in a little more daring stuff, which I think is good, and the influence of his wife who is younger and more attuned to that sort of thing. But Don is an older gentleman and most older people don't change their style too too much.
Q: You're successful at so many diverse projects. How do you manage to not get typecast as the "Don-type"?
A: Part of that is just saying no a lot… I think there are people who have fine careers doing the same thing over and over and over again, and there's no judgment against that. But that's not why I got into this business and that's not what I want to do. I've been fortunate enough to have met a lot of people as this has gone on that have given me opportunities to do other things, whether it's Lorne Michaels or Kristen Wiig or Tina Fey or whoever. And I've had enough success at it that I keep getting asked back.
Q: Do you call upon any of your comedic acting skills while shooting Mad Men?
A: My greatest fear is that somehow I play Don as some unrepentant bummer, because I don't think he is. I think there is a lightness about Don… I like working with funny people. I like hanging out with funny people. I like being funny. I find it a nice ohm against the sometimes difficulties of the world. I appreciate greatly the people who can be funny and create funny…and honestly Matt is one of those people. Matt is a tremendously funny human being, as we see with all of Roger Sterling's lines. He knows how to write a joke.
Click here to read an interview with Mad Men Series Creator Matthew Weiner.
Read More