Uncategorized
The Mad Men Fashion File – Paradise Lost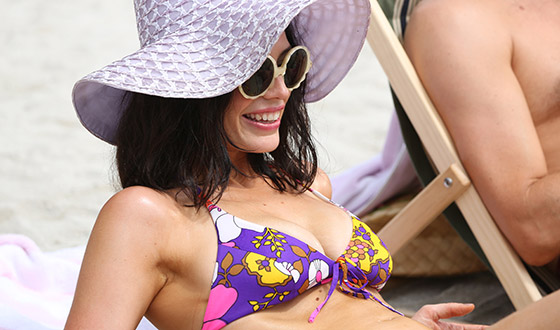 "It must take a lot of work to stand out in paradise," declares Megan. In her case, it's easy: Wear a purple bikini, oil yourself up, and get your husband high — although if you're really craving attention, you can also climb onstage at a Hawaiian luau and hula for the entire hotel.
Megan's dance recalls her "Zou Bisou Bisou" number from last season's premiere, but even more interesting is her encounter afterward with a fan calling her Corinne — the name of a character she's playing on TV. Later, Megan exclaims the fan "really knew me." It's as if her career as an actress is the inverse of Don's alter ego: When strangers call Don the right name — Dick Whitman — he shudders. When they call Megan the wrong name, she loves it.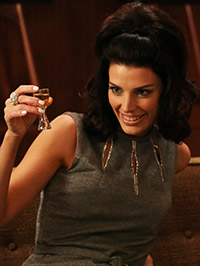 True to form, Megan and Don's costumes are on opposite pages too. In this episode, costume designer Janie Bryant outfits Don almost always in black and white, while she favors regal colors like royal purple or threaded silver for Megan. Even Megan's nails are painted a shimmering pearl on New Year's Eve, giving her an eerie "Midas Touch" vibe that could be foreshadowing… Certainly everything she's touched so far, from Don to an ad campaign to a television career, has turned to gold. And although Don appears to let loose in Hawaii, his costume is not the relaxed cardigans and soft chambrays he wore in California. Instead, it's his office disguise — a strong-shouldered blazer, a button-up shirt, and slacks — just camouflaged in tropical prints.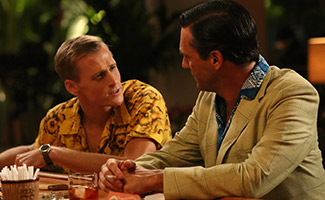 As for the brazenly drunk PFC Dinkins, he may have claimed, "I could paint this place red" with an M2 machine gun, but his Hawaiian shirt wasn't scarlet — it was mustard and beige. Who else wears mustard and beige this episode? Michael Ginsberg (accessorized amusingly with facial hair) and Caroline, Roger's weepy secretary. Peggy watches a cursed Tonight Show routine re-enacted by a man in, yes, a mustard cardigan. If you have something dourly funny to say or do in this episode, your color is Grey Poupon.
Meanwhile, back in Rye, Betty's cream colored Nutcracker outfit is ornate but dowdy, as if Marilyn Monroe grew up and moved back to the suburbs. Compare her dress to that of the teen violinist, Sandy: Both have elaborate button-up fronts and satin bows at the waist; later in the kitchen, both have pink bows on their floral nightgown collars. While Betty and her own daughter's styles are once again nothing alike, the silhouette and details on Betty's costumes tie her directly to the 15-year-old houseguest. The rape discussion was shocking — and darkly ironic, considering the rancid thoughts were tumbling from a woman in perfect pink pajamas next to her husband in a matching blue set. But in the next scene, Betty seems truly empathetic to Sandy, comparing Bryn Mawr to Juilliard and modeling to music, and referencing the loss of her own mother. When Sandy sums up Betty's apartment-to-mansion American Dream as "starting the whole disaster over," you realize Sandy equates the wealthy wife's life with boredom — tethered by pink satin bows and floral prints.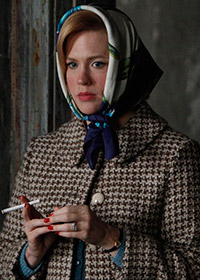 Sally Draper isn't really the pink satin type, but her blue velvet Christmas dress and Fair Isle cardigan have ornate necklines that mimic royal jewels. Combined with her scathing one-liners they make Sally seem like the Infanta of Westchester, sashaying around her East Coast palace as if she's in a Velasquez painting. It's kind of amazing.
As for Betty's trip to The Village, her brightly colored silk scarf is comically vibrant against the dirty tenement walls, and her eventual blonde-to-black transition seems directly triggered by the hippies' anti-establishment insults. When she rips her coat on the doorframe as she leaves, Betty is literally coming apart at the seams. It seems unwise to write that off as a coincidence.
Here are some questions for the SCDP office: Who let Harry Crane out of the house in that checkered coat? How is Pete Campbell mirroring Roger Sterling's tie and pocket square so closely without robbing the man's closet, and how great is it that their colors are perfectly inverted gray and blue? Does Joan realize her tightly-buttoned vest hearkens back to Lane Pryce's signature look? Who is Bob Benson, and could he be more conniving than Pete? My hunch: Maybe, especially since his colorful striped tie looks like a (corporate) ladder.
Don stalks the SCDP halls in white, black, navy and gray. It's not remarkable or disturbing, except that combined with the life-and-death motif of the premiere, he's kind of dressed for his own funeral. When Don mentions that Hawaii is paradise because your body is the same temperature as the air and the water, you think, "That will happen when you're dead, too." And when Don says he'll do anything for New Year's as long as he doesn't have to put on shoes, you think of Paul McCartney walking along Abbey Road barefoot (although that won't exist until 1969).
On a happier note, how cute are Stan and Peggy on the phone to each other? Amazing. Adorable. And also a bit worrisome, at least if you're on Team Abe. Look at Abe's striped shirt and purple scarf in the office. His loud bohemian costume is in a different universe than Peggy's tweedy jumpers. Now look at Stan and Peggy in their New Year's Eve scene: They may be in different offices, but they're wearing the exact same colors.
Final thoughts: Sylvia channels the Sophia Loren vibe perfectly, and Trina Turk's new Summer of Love collection might help you channel your own '60s beach bombshell fantasies. And one more thing: Didn't Megan's black fur hat in the lobby look a lot like Jane Sterling's funeral bonnet?
Read More