Uncategorized
The Mad Men Fashion File – In Limbo
Don's had a virgin/whore complex since Season 1. (Remember the famous "Maidenform" campaign in Season 2? It posed the simplistic — and volatile — question, "Are you a Jackie or a Marilyn?") So maybe it's not surprising to see Sylvia Rosen embodying both, especially since this week's theme is breaking the rules. Consider the contradictions: Sylvia is rich, but never has any money. Sylvia truly likes Megan, despite partnering with Don to betray her. Sylvia can't imagine considering abortion — because it's against her strict Catholic upbringing — but she's already breaking a major commandment.
Costume designer Janie Bryant highlights Sylvia's jarring oppositions through her costumes: Sylvia wears a cross around her neck while sleeping with her husband's friend. She dons innocent white lace in the bedroom with Don, but fiery reds when hanging around the apartment with her husband. (She's even worn kimono-like pajamas and a turban that evoke the costumes of the whores from Don's childhood.) It's also interesting that Megan and Sylvia are in the same color palette (pale blues and greens) during the restaurant scene, except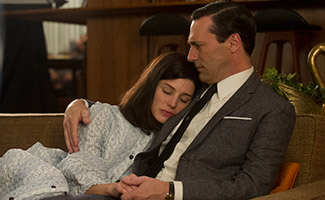 Megan's at home and her costume is a full-length quilted bathrobe of the Betty Francis variety, while Sylvia's is a bejeweled shift dress showing off her bare arms. To add insult to fashion injury, Sylvia has the same pearlescent white nail polish that Megan wore in the previous episode. (Alas, the E! Fashion Police segment "Bitch stole my look" won't exist for another 50 years.)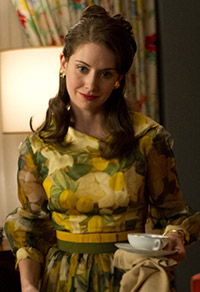 Speaking of dysfunctional couples, here's a nifty trick from the Campbells: In their first scene together, Pete and Trudy match. He's in a brown suit, she's in a complementary green-and-gold dress, they're surrounded by matching walls and furniture. The fantasy of the perfect life is still inflated around them. Fast forward to Trudy's astonishing "I will destroy you" speech, and once you've finished cheering for the desperate housewife, you realize her bright green striped shirt-dress and its design details match the kitchen wallpaper behind her, but Pete's on another fashion planet in his skinny, dark suit. Not surprisingly, Trudy will be the one running the charade and keeping the house — her very fabric is tied to it, literally.
Just like last week, Pete's true "soul mate," at least in terms of costumes, is Roger Sterling. Sitting side-by-side at the Jaguar meeting, the duo shared a penchant for blue-blood ties and matching pocket squares. The big difference is that Roger's suit is gray, while Pete's is a deeper navy and black. Look at them together, and you wonder if Roger is a fading version of Pete — or perhaps just a softer, less abrasive one. I also liked Don's tie in this scene because it was ruddy and brown, and seemed quite unlike his usual blue-and-black striped neckpiece.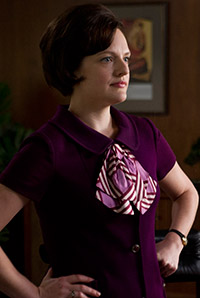 On to rising star Peggy, whose purple pussy-bow outfit is cute, but completely upstaged by Phyllis the Secretary: that mod mini-jumper is something fashion fiends always covet at thrift stores and eBay sales, and Miuccia Prada often sends similar pieces down her Milan catwalks today. But back to Peggy, who's desperately trying to fit in with her team, and failing. You know who she does fit in with, at least from a costume perspective? Stan Rizzo. Again. During their after-hours chat, Peggy wears a grape-colored dress with a lighter purple tie. Stan wears a dark blue denim shirt with a light blue turtleneck. Fast-forward to the next time we see Peggy, and she's talking to another Olson fan wearing a dark blue shirt with a light blue turtleneck: Ted Chaough. Peggy's imminent choice between them — her job or her friend — is starkly illuminated in their outfits.
Finally, a question: Why was Joan wearing a circle brooch incredibly similar to the one worn by Pete's tryst partner, Brenda?
Read More