Uncategorized
1960s Handbook – The Electric Circus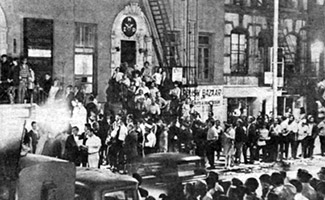 The psychedelic discotheque the Electric Circus opened on
Jun. 28, 1967, in NYC's East Village with a charity benefit that saw
the downtown art crowd, the midtown fashion set, and uptown socialites mixing it up
with barefoot hippies and stray bystanders who'd somehow gained entry. With
textured walls at all angles, a high-powered sound system, and
light and projected-image shows, the pleasure palace was designed to delight — and disorient — its patrons, and draw them into a kaleidoscopic experience that
included go-go dancers, jugglers, face painters, karate and trapeze artists, and
even astrologers. "We want people to get integrated with the action,"
co-founder Jerry Brandt told a reporter from Life magazine, who wrote that labeling the proceedings as "audience
participation" would be a "flagrant understatement." During the club's first year, the action included performances by the Grateful Dead, the Chambers Brothers, and house band Sly and the Family Stone.
With funding from the American Coffee Foundation and an amped-up typeface that aptly illustrated the club's name, the Electric Circus was all about "buzz." Snappy ads and
posters promised patrons they could be anything they wanted to be, which may
explain why the reporter for Life extolled the Electric Circus as a safe place to experience psychedelia without having to get high, while the Village Voice compared the scene to the Roman Empire "in that middle period when decline was becoming decay." (During the club's cameo as the fictitious Pigeon-Toed Orange Peel in the 1968 film Coogan's Bluff, the unremitting glare of Clint Eastwood, playing a fish-out-of-water Arizona sheriff, makes it clear his character sides with the Voice's opinion.)
The Electric Circus powered through 1968 with packed houses for live and recorded rock music, and it earned praise from the serious music press for Monday night "The Electric Ear" performances by John Cage and other avant-garde musicians. By early 1969, though, the club's owners admitted in a Voice ad that "Two Years of Success Ruined Us" and temporarily closed the Electric Circus for a makeover. The redesigned venue reopened in April on a high note, but by 1971 the enterprise, like psychedelic rock itself, had run its course so the club shut down.
Read More