Uncategorized
The Mad Men Fashion File – State of the Union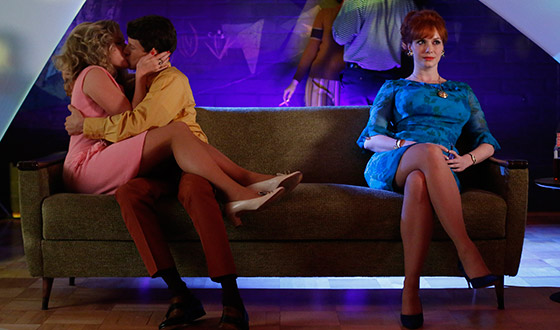 Are we destined to repeat our mistakes? That's something to think about as we take inventory of our main characters: In this episode, Don continues to cheat, Peggy pushes forward at all costs, and Joan allows men to subvert her authority. To visually highlight these vicious cycles, costume designer Janie Bryant puts each character into a repeat costume while they're falling into an old (and bad) habit. Don's classic shark suit is back in action; Joan revives last season's blue roses motif and last week's purple vest dress; Peggy's got her capable navy ensemble. Peggy even resurrects one of Don's classic lines verbatim: "If you don't like what they're saying, change the conversation."
Meanwhile, both Sylvia and Megan get loaded with black-and-white costumes: Sylvia continues her Sophia Loren vibe in a black coat with white fur trim. Megan wears a black-and-white French Maid uniform during her "scandalous" television scene. But Sylvia is having an affair in real life, while Megan's is only pretend — so it's fitting that her black-and-white moment comes from a soap opera costume, whereas Sylvia's comes from her own closet. Another black-and-white moment in the episode comes from Harry Crane's checkered blazer, although when he meets with Cooper and Roger, Harry wears a brown and beige jacket with an orange-striped tie. His textures and colors match the office perfectly, adding to the effect that in this scene — and maybe for the first time ever — Harry is owning the room. Joan also has a black-and-white moment when meting out Dawn's punishment, and thanks to her lacy collar and sleeves, she looks a bit like a judge.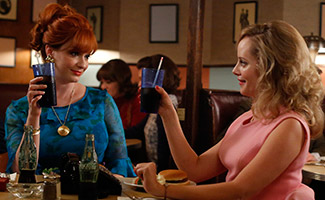 I love the pops of pink in this episode, too. Katie's bubblegum dress made her look like Sorority Sweetheart Barbie, Megan's coral jacquard dress at dinner was so pretty and fresh, and Dawn's ruffled pink blouse was sweetly out of place sandwiched between her matronly gray blazer and her Peggy Olson-esque plaid skirt. In each case, pink signals a kind of persistent innocence, and with Dawn it's almost as if she's exposing herself as a big softy, even kitted out in her serious office gear.
Now, we could go on about the persistent use of blue and green this season: Pete Campbell's bachelor pad lacquered doors! Harry and Scarlett's matching ensembles when she tells him he has great ideas! Joan's dress! Ginsberg's cardigan! But I still think it's too early in the season to declare a symbolic color story, at least if we want to accurately deduce the symbol. Instead, let's move onto some practical matters: How to get these looks.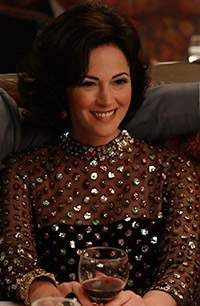 If you want Arlene's powerfully sexy diamante dress, you have options but they're not cheap: Here is a modern version by 3.1 Phillip Lim; here is the evening gown version by Lanvin. Megan's incredible metallic dress is vintage, and it even comes with a matching coat. But since you can't rob the Mad Men costume trailer (and please, don't try), here are some ideas for how to re-create the look: Tibi's orange jacquard dress is the same shape as Megan's, and it has a diamond pattern, albeit more subtle. You can wear it as a contemporary dress with heels and loose hair, or you can "Calvet it up" with a bouffant up-do, liquid black eyeliner, and a heap of lucite necklaces. As for Megan's pink-and-red color blocking outfit at home, that's easy! (Really easy, actually, thanks to Kate Spade.)
And, on Etsy there is an actual shopping section of outfits inspired by Joan, including multiple riffs on the blue roses dress. There is also this "wave dress" reproduction, created by a seamstress named Miss Nancie and just waiting to be accessorized with a pen necklace.
Read More