Uncategorized
Q&A – Brian Sanders, Key Art Illustrator for Mad Men Season 6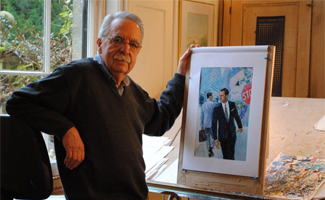 Noted 1960s graphic artist Brian Sanders illustrated the key art for Mad Men Season 6. In this interview with AMC, he talks about the creative process for the artwork and how Mad Men nearly convinced him to start smoking.
Q: What was your reaction when you were approached for this project?

A: At first I wasn't told what the project was about, but was simply asked whether I was the artist who was responsible for several works carried out in the '60s. When I took responsibility for several of them, I was asked if: 1. I could still work in that manner, 2. Would I be interested in doing so and if so could I do it in secret? 3. Could I show more work of the era? I was able to direct Brad Hochberg of The Refinery Ad Agency to Lief Peng's blogs on my work, by googling "Todays Inspiration Brian Sanders." It may have helped clinch things as it shows work that I had carried out on the set of Stanley Kubrick's 2001. By the time that I was asked to make some experimental illustrations I'd worked out what they were probably about, although imagined that it to be for the show rather than advertising it.
Q: You rose to fame as a 1960s commercial illustrator. Was it surreal to get asked to rewind to an earlier part of your career?
A: It was odd, but not difficult. My recollection of the '60s is very acute as it was when my career took off. I also have a reasonable archive record of work at that time as is shown in Lief Peng's blog. Also my style of drawing beneath the paint surface has not changed a great deal. I have always been a figurative illustrator albeit given to experimentation over the years.
Q: Matthew Weiner has said, "The show is telling the history of advertising, and part of that story is about photography completely eclipsing illustration." How is that reflected in your work?
A: In the late '50s, after completing my National Service in the Royal Marines, I worked as an assistant to the London photographer Adrian Flowers whilst getting my portfolio together. I also needed to learn about photography as any figurative illustrator did. My fellow assistant Duffy went on to become a Vogue photographer and could not understand why I did not want to. I always wanted to be an artist and am still trying hard. We both did OK. Most of my later work was editorial, or for publishing and philatelic purposes rather than advertising, so the collapse of advertising illustration did not affect me greatly. I still owe Adrian big time for his help and encouragement.
Q: Did any character or scene from Mad Men inspire you on this project?
A: For me, it is more about work rather than inspiration. The Don character is the inspiration for the series.
Q: What's the trick to nailing that '60s-era ad style?
A: Having been there when it was happening. I worked in London's Mayfair which very similar to Madison Avenue at the time.
Q: Do you have a favorite ad campaign from Mad Men itself?
A: I like it all. Matthew Wiener has made an excellent portrayal of advertising at that time and, as I said in discussion with him, I almost took up smoking again when I saw the first series.
Q: How long did it take to create the artwork?
A: Trial work began last November and progressed over time, but the finished art, for both shapes of ad, took little more than two weeks and was delivered to a deadline, like most advertising jobs, very close to publication day!
Click here for a photo gallery on the creation of the Mad Men Season 6 Key Art.
Mad Men returns this Sun., Apr. 7 with a special two-hour premiere at 9/8c on AMC.
Read More