Press
Jon Hamm Appears on Rolling Stone Cover; CBS News Interviews Cast About Season 6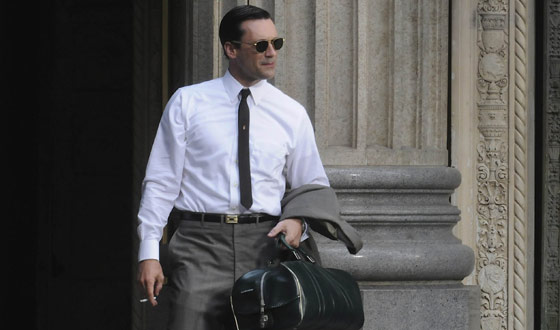 This week, Jon Hamm spices up the cover of Rolling Stone magazine, while several major media outlets interview the cast about what to expect in Season 6. Read on for more Mad Men news:
• Rolling Stone puts Jon Hamm on its cover, observing, "there may be no better actor on TV right now." Hamm also expresses a preference for the Rolling Stones over the Beatles.
• Rolling Stone's Mad Men review raves, "Mad Men is the greatest TV drama of all time, and it's not even close. Mad Men is to TV what The Godfater was to the movies." (No Link.)
• CBS News interviews Jon Hamm, January Jones and Elisabeth Moss about Season 6. Hamm acknowledges, "I think there's a healthy amount of anticipation [for the new season]. Hopefully that will be well-founded."
• John Slattery talks to the Associated Press about what's to come in Season 6: "We're getting to that period in the '60's where everything turned upside down and it affects everybody."
• The Wall Street Journal speaks extensively to Matthew Weiner, who discusses his '50's and '60's movie influences and contemplates Jon Hamm's resemblance to Gregory Peck.
• Entertainment Weekly talks to Christina Hendricks and Elisabeth Moss about the circumstances of Joan's Season 5 promotion and how Peggy's problems aren't all solved by stepping out of Don's shadow. (No Link.)
• January Jones tells E! News, "We're all representatives of this now cultural phenomenon. It's not something we take lightly." (No Link.)
• Alison Brie appears on Wired's April cover, dressed in drag as Jon Hamm. Brie tells Yahoo, "I was sort of like, 'I don't know what Jon Hamm is going to think about this.' But I just went for it." Crushable raves about Brie's cover.
• Wired uses Alison Brie and Mad Men (and NBC's Community) to argue that the "Nielsen family is dead."
• Elle.com chats with Jon Hamm, Elisabeth Moss and Christina Hendricks at the Season 6 premiere screening and learns from Hamm that the end of the Season 5 finale is the key to the new season. Meanwhile, On the Red Carpet tries to pry some Season 6 secrets from the cast and crew.
• TV Guide offers a first look at a new 30-second Season 6 trailer, wondering, "could Don be looking for his next patch of happiness with another woman?" Cinema Blend says the video "does remind us of what a great drama this series is, and of course, how critically acclaimed it is." CBS News, Entertainment Weekly, Gothamist, The Wall Street Journal and Zap2it also spotlight the trailer.
• CarterMatt.com highlights a Joan-centered promo and asks, "what could be coming up for Joan? It will certainly be interesting to see how she handles her new position."
• Dread Central spotlights AMC's combo-promo for The Walking Dead's season finale and Mad Men's season premiere.
• A.V. Club helpfully provides a list of 10 Mad Men episodes through the years "that show off 10 vital characters and aspects" of the series.
• Mashable suggests several ways to catch up on Mad Men before the Apr. 7 Season 6 premiere, including AMC's airing of encore episodes.
• The New Zealand Herald interviews Elisabeth Moss, who describes Peggy's evolution: "It's a delicate balance between allowing her to grow and allowing her to change and retaining sight of the original Peggy that we love."
• Ben Feldman tells The Jerusalem Post that Michael Ginsberg is "in a totally different social class, as you can see from his clothing, and I try to show how hard it is for him to fit in."
• A.V. Club takes a closer look at the Mad Men theme song, RJD2's "A Beautiful Mine."
• Christina Hendricks talks to Independent.ie about How To Catch a Monster, a film directed by Ryan Gosling that she'll star in. Meanwhile, Gosling shares with The New York Times that the movie was inspired by experiencing the audience's reaction at a screening to the death of Hendricks' character in Drive.
• Hollywood Life finds out the secret behind the "sexy and sophisticated" ponytail sported by Jessica Paré at the screening of the Season 6 premiere.
• To stay up-to-date with all the latest Mad Men news, sign up for the weekly Mad Men Memo.
Read More