Press
Jon Hamm Drops Hints About Season 6; People Chats With Christina Hendricks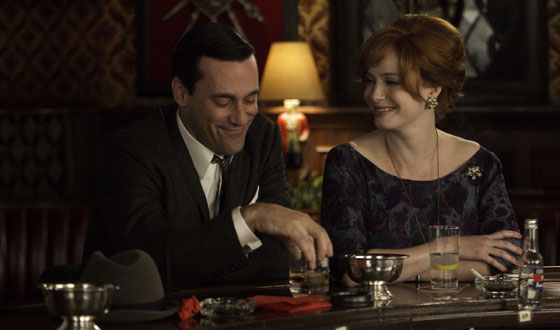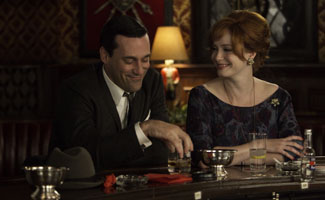 This week, Jon Hamm looks ahead to Mad Men's upcoming season in a roundtable discussion with multiple media outlets, while Christina Hendricks is interviewed by People. Read on for more Mad Men news:
• In a roundtable discussion, Jon Hamm explains to Zap2it what to expect when Mad Men premieres next month and offers his interpretation of the Season 6 poster: "This is chaotic and different and in many ways kind of suggests the world we're moving into [on the show]." Hamm also discusses the show's anti-spoiler policy with The Huffington Post.
• People's One Last Thing chats with Christina Hendricks about her last splurge, fan encounter, and guilty pleasure.
• Elisabeth Moss talks to Entertainment Tonight about her relief at finding out she'd be returning to Mad Men after Peggy's departure from SCDP.
• The San Francisco Chronicle raves about getting "a double dose of Elisabeth Moss" in both Mad Men's Season 6 premiere and Top of the Lake.
• Jane Campion tells the Los Angeles Times that Elisabeth Moss, the star of her Top of the Lake miniseries, is "a bit like the Mona Lisa, she shows you something, but there's so much more."
• The Huffington Post reviews Elisabeth Moss' performance in Sundance Channel's Top of the Lake, observing that "Moss' post-Sterling Cooper Draper Pryce career looks promising indeed."
• Gothamist provides a refresher on where Mad Men left off at the end of Season 5.
• Brian Sanders, illustrator of the Mad Men Season 6 poster, talks to AARP about the show.
• ThinkProgress compliments Elisabeth Moss for being "one of the best actresses working today," in both Mad Men and Top of the Lake.
• Mashable presents YouTube OfficialComedy channel's repurposing of clips from Mad Men into a March Madness ad.
• To stay up-to-date with all the latest Mad Men news, sign up for the weekly Mad Men Memo.
Read More