Press
Christina Hendricks Chats With Craig Ferguson; NYT Profiles Season 6 Poster Illustrator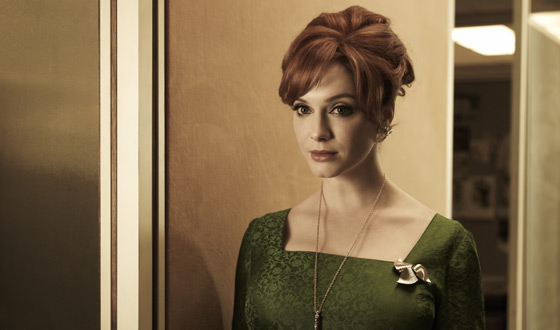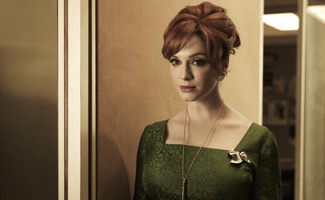 This week, Christina Hendricks is a guest on The Late Late Show, while The New York Times interviews the artist behind the Season 6 poster. Plus, new photos and video from Season 6 are making the media rounds. Read on for more Mad Men news:
• Christina Hendricks visits Craig Ferguson's The Late Late Show (at the 22-minute mark), discussing New Orleans and her accordion skills.
• The New York Times examines how illustrator Brian Sanders came to design Mad Men's Season 6 poster, which "looks as if it has time-traveled from the pages of an old copy of Reader's Digest."
• HitFix observes that new photos of the Season 6 Mad Men cast are "an incredibly attractive collection of actors dressed very, very well." TVLine says the cast is "at their sleek, sexy best." New York, Zap2it, Flavorwire and TV Fanatic also try to read into the photos.
• Mad Men's Season 6 poster has been unveiled — and CBS News, Entertainment Weekly, HitFix, Zap2it, A.V. Club, Grantland, /film and Business Insider all try to glean some clues from it.
• Newsday discusses a Mad Men Season 6 sneak peek video "that offers a handful of clues of what to expect." CBS News, Entertainment Weekly, TODAY, The Huffington Post, E! Online, Rolling Stone and Zap2it also check out the video.
• The Huffington Post spotlights a video of Matthew Weiner and some cast members recapping the Season 5 finale and hinting at what's to come in Season 6.
• Elisabeth Moss sits down with Chelsea Handler and explains why she wants a Cabbage Patch doll in Peggy's likeness.
• Fashionista interviews January Jones, who teases about Mad Men's upcoming season: "There's a lot of juicy exciting things that happen."
• GQ scours its 1967-68 archives in a bid to figure out "the styles, trends, and sideburns that await us" in Season 6 of Mad Men.
• The Boston Herald reports that a retro eatery named Sterling's (after the Mad Men character Roger) opens this week.
• Meanwhile, The Week looks back at all of Mad Men's promotional posters and tries to figure out what viewers have learned from them in the past.
• Mad Men was nominated for one of first-ever Netflix Flixies Awards, in the category of Best Marathon TV Show.
• The St. Louis Post-Dispatch includes Mad Men's April 7 return in its list of 10 buzzworthy shows on the midseason TV calendar.
• 88Nine Radio Milwaukee explores RJD2's "A Beautiful Mine," which happens to be Mad Men's theme song.
• To stay up-to-date with all the latest Mad Men news, sign up for the weekly Mad Men Memo.
Read More