Press
TV Guide Previews Mad Men's Season 6 Return; January Jones on Glamour Cover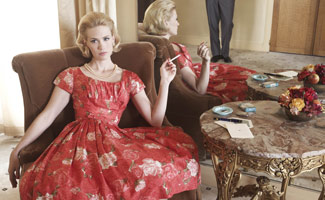 This week, TV Guide looks ahead to Mad Men's return next month, while January Jones appears on the cover of Glamour UK. Plus, Christina Hendricks and Elisabeth Moss each land starring film roles. Read on for more Mad Men news:
• TV Guide's spring preview gets excited for Mad Men's April 7 return, explaining, "Anxiety and control are the fuel propelling Season 6." [No Link]
• The "brainy, ballsy and beautiful" January Jones graces the cover of Glamour UK's April issue. Ireland's TV3 has excerpts from Jones' interview in the magazine about Mad Men becoming a "cultural phenomenon."
• E! Online spotlights Jon Hamm's recent turn as a talking toilet on FOX's Bob's Burgers.
• Deadline, E! Online, The Hollywood Reporter, The Huffington Post, New York, TV Guide and Zap2it examine the new 30-second Season 6 promo looking for clues to the new season.
• Variety reports that Christina Hendricks will star in A Book of Common Prayer, which will be directed by Campbell Scott.
• Elisabeth Moss is set to star in an independent film called The One I Love, Deadline reports.
• A film starring John Slattery, Bluebird, will open the narrative competition at next month's Tribeca Film Festival, according to The Hollywood Reporter.
• You can hear the "velvety, Jon Hamm baritone" in the Season 5 two-part finale of FX's Archer, according to A.V. Club.
• Contra Costa Times suggests binge-watching Mad Men, calling it a "prime drinking-game candidate."
• MediaPost says the rise of cable has ushered in a second golden age of TV, citing AMC's foray into distinctive programming — which "led directly to the creation of one of the greatest TV shows ever: Mad Men."
• Coco Rocha, who modeled the Banana Republic Mad Men collection, tells The Huffington Post she watches the show for the clothes.
• To stay up-to-date with all the latest Mad Men news, sign up for the weekly Mad Men Memo.
Read More