Press
Jessica Paré Talks Jon Hamm with Zap2it; USA Today on Banana Republic Mad Men Collection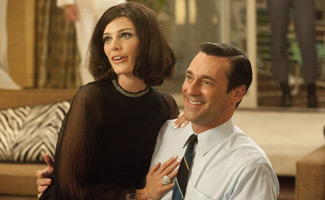 This week, Jessica Paré tells Zap2it about what it's like working with Jon Hamm, while USA Today posts photos from the new Banana Republic Mad Men fashions. Plus, check out trailers for Elisabeth Moss' upcoming production, Top of the Lake. Read on for more Mad Men news:
• Jessica Paré raves to Zap2it about working alongside Jon Hamm, saying he's "super-generous and so talented, he just makes me better."
• Deadline and Slate offer trailers for Jane Campion's Top of the Lake, a miniseries starring Elisabeth Moss which debuts on the Sundance Channel on March 18.
• USA Today previews the new Banana Republic Mad Men collection, observing that the clothing "takes a cue from the mod fashion scene of the late 1960s." Racked and the Pittsburgh Post-Gazette also share photos from the collection.
• The San Francisco Chronicle chats with Janie Bryant about the new Banana Republic Mad Men collection and how Megan was her muse for the women's wear. Bryant also visits Los Angeles' KTLA 5 to discuss the collection, saying "it's all about geometric shapes and bright colors."
• E! Online reports that model Coco Rocha helped launch the Banana Republic Mad Men collection in Los Angeles earlier this week.
• In Los Angeles Confidential's profile of Jessica Paré, Matthew Weiner says the actress "looked like an early-'60s French movie star to me."
• TBI reports that A Young Doctor's Notebook, starring Jon Hamm and Daniel Radcliffe, has been picked up by broadcasters in Latin America, Israel and Germany.
• To stay up-to-date with all the latest Mad Men news, sign up for the weekly Mad Men Memo.
Read More