Uncategorized
Q&A – Larisa Oleynik (Cynthia Cosgrove)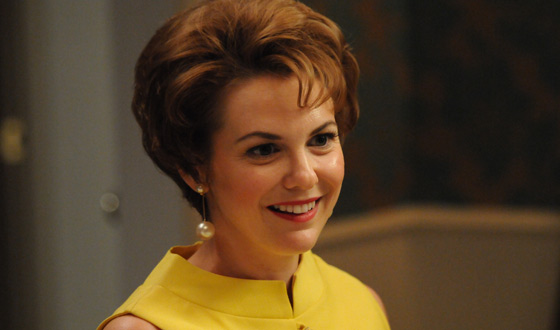 In this interview, Larisa Oleynik, who plays Cynthia Cosgrove on AMC's Mad Men, reveals her own secret hobby and describes getting recognized as "Mrs. Cosgrove."
Q: You've been on the show since Season 4, but we really saw a lot of you in Season 5. How did you get involved in Mad Men?
A: I'd been in to audition for the show a couple of times for different characters and different guest spots… And when I originally auditioned for Cynthia, I had no idea whose fiancee I was actually playing. So that was a really fun surprise.
Q: What was it like meeting Aaron Staton, your on-screen husband, for the first time?
A: I was incredibly nervous the first day on set, but he automatically made me really comfortable. Our chemistry is great in that it really completely and only 100% exists as our characters. And as soon as they call the scene, I'm like, "So, tell me about the baby." [Laughs] I couldn't ask for a better on-screen husband.
Q: You were a teen star in The Secret Life of Alex Mack in the '90s. How has being cast in Mad Men changed your career?
A: When people recognize me from Mad Men specifically, it's just the coolest feeling… I don't really know if I'm being seen differently, but I know that, just in terms of confidence, it has helped immensely… After a long round of trying to establish myself as an adult actor, booking this job, I was like, "Yes! They don't hire bad actors on Mad Men." It was huge sigh of relief.
Q: What do people say to you when they recognize you from Mad Men?
A: This guy tried to hit on me the other day by calling me Mrs. Cosgrove. I was like, "I've got a boyfriend, but I'll take it!" [Laughs] I'm such a nerd for the show, and obviously I've done a lot of TV guest work, but this is the first time I've gone into a show just being such a huge fan and having seen every single episode — with commentary — probably three times.
VIDEO: Inside Episode 505, "Signal 30"
Q: Elisabeth Moss was also a teen actress. Do you ever reminisce about the past together?
A: I actually saw Elisabeth the other night… Even though we didn't know each other when we were kids, I feel like I sort of grew up with Elisabeth and watched her career blossom… From the first season of Mad Men, I was like, "Whoa, she's shining." Peggy is such a fascinating character.
Q: Favorite scene from Season 5?
A: That cleaning sex scene between Don and Megan. He comes home, and she's in her underwear cleaning up from the party, and she says, "You don't like nice things." Oh my god, that scene is so great! … Right in those first episodes, we get a glimpse of how weird, but sexy, but kind of f'ed up the dynamic of their relationship is.
Q: If you lived in the '60s, do you think you'd dress like Cynthia? If not, which character would you be most similar to?
A: I'd want to dress more like Megan… When we were doing the dinner party scene, Alison Brie's character [Trudy] is definitely still more traditional. And then Cynthia is a little bit more cutting-edge, but Megan is definitely on the edge. I'd want to dress like an actress in New York.
Q: At the Campbells' dinner party, Cynthia reveals Ken's secret writing career. Do you have any secret hobbies?
A: I'm a secret neat freak. I don't care about clutter, like I don't care if there's clothes everywhere, but I will get on my hands and knees with a toothbrush and scrub the grout on the floor. That's my secret hobby. [Laughs] I did tell someone yesterday that my superpower was parking because I refuse to valet.
Q: It's interesting you've been in a movie version of Atlas Shrugged, considering Mad Men's Ayn Rand references…
A: I watched a couple of documentaries about her philosophies, and while I don't agree with everything, I do think the idea of being self-made and picking yourself up by your bootstraps and charging yourself forward is very Mad Men-theme oriented.
Click here to read an interview with Aaron Staton, who plays Ken Cosgrove on AMC's Mad Men.
Read More