Press
Estée Lauder Releases Mad Men-Inspired Limited Edition Collection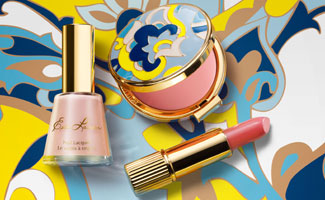 For fans enamored of the classic looks featured in Mad Men: Today Estée Lauder debuts their second Mad Men Collection, right in time for Mad Men's Season 6 premiere in just a few short weeks. The Estée Lauder Mad Men Collection features three products inspired by the late '60s: See Thru Blush in Light Show; Rich, Rich Lipstick in Pinkadelic; and Nail Lacquer in Pink Paisley. The vintage collection channels its own '60s heritage with an original Estée Lauder paisley design — the blush is decorated in the original '60s print, while the lipstick case is a direct replica from the Estée Lauder Archives.
The new Estée Lauder Mad Men Collection will be available for a limited time at Bloomingdale's, Nordstrom, Lord & Taylor and EstéeLauder.com.
The Mad Men Season 6 special two-hour premiere airs Sun., Apr. 7 9/8c.
Read More