Press
THR Lauds Mad Men as "Brilliant" Drama; New York Mag "Counting the Days" Until Season 6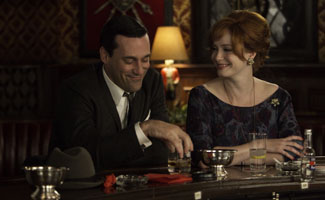 This week, The Hollywood Reporter considers Mad Men part of a "surge of brilliant dramas," while New York Magazine plans out a schedule to catch up on the series ahead of the Season 6 premiere. Read on for more Mad Men news:
• The Hollywood Reporter cites Mad Men (and The Walking Dead) as an example of the "surge of brilliant dramas on television."
• New York Magazine provides a schedule to catch up on Mad Men before the Season 6 premiere on Apr. 7.
• Indiewire's review of Jane Campion's Top of the Lake calls Elisabeth Moss' performance a "thing of wonder."
• OK! checks out Estée Lauder's second Mad Men-themed collection.
• Talent Zoo interviews Janie Bryant, who explains why she believes Mad Men's costume design to be one of the show's characters.
• According to The Hollywood Reporter, the rights to Sweetwater, starring January Jones, have been sold for several international markets.
• Meanwhile, The Hollywood Reporter says British rights to The Quiet Ones, starring Jared Harris, have gone to Lionsgate U.K.
• To stay up-to-date with all the latest Mad Men news, sign up for the weekly Mad Men Memo.
Read More