Press
Banana Republic Mad Men Collection and Mad Men Mod Weekend Sweepstakes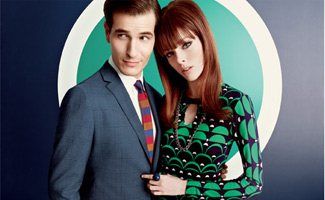 Banana Republic is back with a new Mad Men Collection for Spring 2013 plus a sweepstakes to win a Mad Men Mod Weekend in NYC.
Designed by Banana Republic in collaboration with Mad Men's Emmy Award-winning Costume Designer Janie Bryant, the new collection (available in Banana Republic stores and at www.bananarepublic.com) takes its inspiration from costumes featured in the latest seasons of the series and reflects the mod vibe of the late '60s. Simon Kneen, Banana Republic's Creative Director and Executive Vice President, says, "We took Janie's mod inspiration for the costumes on-screen and translated it in a way that today's Don or Megan will aspire to wear." Bryant herself says, "The spirit and fashion-forward thinking we see on-screen in Megan was really inspirational for the capsule." Other key influences include Joan's form-fitting silhouette, Megan's shift dresses in psychedelic prints, Peggy's matching accessories, and Megan's youthful effect on Don's classic wardrobe.
The menswear collection includes bold plaids and stripes, the emergence of the sport coat, and the sophisticated suit for the boardroom. The women's collection celebrates color, print and pattern in iconic items like the era's popular shift dress with shorter hemlines, keyhole details, and checked capris. Accessories include a mirrored heel shoe, graphic scarves, and geometric jewelry for women, along with fedoras and skinny ties for men.
The Mad Men Mod Weekend sweepstakes will give one lucky fan and a guest the chance to experience the Mod life Mad Men-style with three nights at a five-star hotel in NYC, a $1000 gift card and personal stylist courtesy of Banana Republic, and $1000 to indulge in UrbanDaddy's recommendations for the Mad Men Mod experience including food, shopping and nightlife.
Click here to enter the Mad Men Mod Weekend sweepstakes.
Read More