Press
Matthew Weiner Talks Season 6 with EW, NY Times, TV Guide and The Daily Beast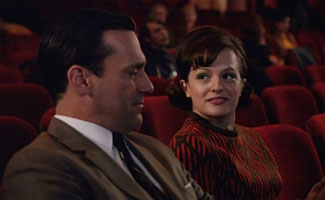 This week, major media outlets are buzzing about news of the Season 6 premiere date announcement, with Matthew Weiner sharing bits of information about Season 6 with several publications, including Entertainment Weekly and The New York Times, and Elisabeth Moss chatting about Mad Men with Access Hollywood. Read on for more Mad Men news:
• Entertainment Weekly, writing about Mad Men's Apr. 7 return, chats with Matthew Weiner, who promises that "the audience is in for quite a ride."
• The New York Times also speaks with Matthew Weiner, who describes Season 6's two-hour premiere as "a movie" in which "we can create the atmosphere and vibe of the season."
• Matthew Weiner promises TV Guide that the show's entire cast, including Elisabeth Moss and January Jones, will be back for Season 6.
• Matthew Weiner shares ten facts about Season 6 with The Daily Beast.
• The Los Angeles Times reports on Mad Men's April 7 season premiere.
• The Hollywood Reporter features black-and-white photos of the cast ahead of the Season 6 premiere.
• At the Sundance Film Festival, Elisabeth Moss talks Mad Men with Access Hollywood, calling the drama "one of the greatest experiences of my life."
• New York reports that Aaron Staton guest-starred on the series premiere of Adult Swim's Newsreaders. The episode also features Staton's Mad Men father-in-law, actor Ray Wise.
• Joel Murray talks to The Olympian about how he learned to get laughs around the family dinner table.
• Fans of Rosemarie Dewitt can check out a video interview she did with Indiewire about her film, Touchy Feely, which premiered at the Sundance Film Festival.
• Broadway World reports that Darren Pettie (Lee Garner, Jr.) participated in a workshop production of Paradise Bar and Grill in Los Angeles.
• To stay up-to-date with all the latest Mad Men news, sign up for the weekly Mad Men Memo.
Read More