Press
CNN Praises Mad Men Trends; THR, LA Times Attend Elisabeth Moss' Top of the Lake Panel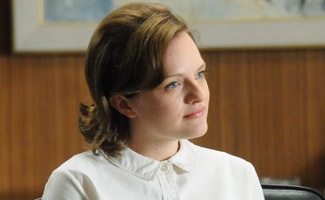 This week, CNN tells showrunners what they can learn from Mad Men, while Elisabeth Moss stars in Jane Campion's Top of the Lake. Plus, catch Christina Hendricks and Vincent Kartheiser in new projects this summer. Read on for more Mad Men news:
• Citing Mad Men's (and The Walking Dead's) success, CNN suggests showrunners pay heed to lessons like, "Don't be afraid to kill off a character."
• The Hollywood Reporter covers Elisabeth Moss' appearance on a panel about filming Jane Campion's Top of the Lake. The Los Angeles Times and Zap2it were also there. Indiewire has some stills of Moss in the project.
• The Los Angeles Times reports that the Directors Guild of America has nominated Jennifer Getzinger for her direction of the Season 5 premiere, "A Little Kiss." E! Online provides a complete list of nominees.
• According to The Hollywood Reporter, this summer Vincent Kartheiser will lend his voice to a new TV series called Axe Cop.
• The Hollywood Reporter also mentions that Mad Men and Jon Hamm have received nominations for TV Drama of the Year and TV Performance of the Year, respectively, from the Gay and Lesbian Entertainment Critics Association.
• SheKnows features a clip of Christina Hendricks ("with natural girl-next-door charm and a subtle air of innocence") in Struck by Lightning, a film written and directed by Glee's Chris Colfer.
• Check out a pre-Mad Men Christina Hendricks in a deleted scene from an episode of Firefly, courtesy of Indiewire.
• ScreenCrush checks out the career of Elisabeth Moss before she took on Peggy Olson.
• To stay up-to-date with all the latest Mad Men news, sign up for the weekly Mad Men Memo.
Read More