Mad Men Nabs Two Writers Guild Award Nominations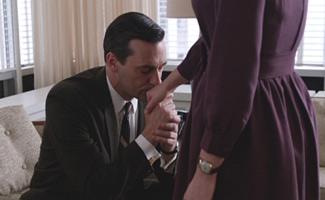 The Writers Guild of America has announced its nominees for the 2013 Writers Guild Awards and Mad Men was honored with two nominations: one for Best Drama Series as well as an individual episode nomination.
The nominations are part of 7 garnered by AMC this year, with Breaking Bad also earning nods for Best Drama Series and Best Episodic Drama. (Click here to read more about Breaking Bad's nominations.)
For the Best Drama award, Mad Men and Breaking Bad face formidable competition: HBO's Game of Thrones and Boardwalk Empire, and Showtime's Homeland are also nominated.
Mad Men's Season 5 episode "The Other Woman," written by Semi Chellas and Matthew Weiner, earned a nomination for Best Episodic Drama. Also recognized in the category are Breaking Bad's "Fifty-One", written by Sam Catlin; "Dead Freight," written by George Mastras; "Buyout," written by Gennifer Hutchison; and "Say My Name," written by Thomas Schnauz; as well as Homeland's "New Car Smell," written by Meredith Stiehm.
The awards will be presented during simultaneous ceremonies in Los Angeles and New York on Sun., Feb. 17.
Read More