Uncategorized
Ring in the New Year With These Memorable Mad Men Kisses From Season 5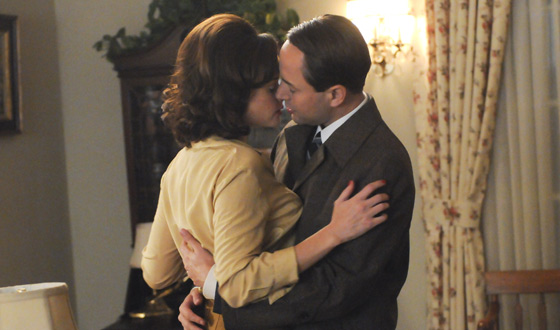 Need some suggestions on how to go in for a kiss come midnight on New Year's Eve? Take a cue from the characters in Mad Men. Below is a list of some of the more memorable Season 5 smooches. Try one or try them all. Just make sure you do it Mad Men-style!
Don and Megan in Episode 1, "A Little Kiss"
Don finds Megan at home angrily cleaning while dressed only in lingerie. "I don't want you," she says to Don, who grabs her — prompting the two to share an intense kiss on the apartment floor.
Lane and Joan in Episode 5, "Signal 30"
Joan provides comforting words to Lane (and some ice for his hand) after he slugs Pete in the face during a fistfight. Lane leans in for an awkward kiss then apologizes profusely.
Don and Megan in Episode 7, "At the Codfish Ball"
With help from Megan, Don lands the Heinz campaign over dinner. Afterwards, the two celebrate with a serious make out session in the back seat of a taxi cab.
Pete and Beth in Episode 8, "Lady Lazarus"
Pete drives a despondent Beth home then follows her inside. As the two embrace near the fireplace, Pete claims Beth is just doing it to get back at her husband — which doesn't stop either from continuing.
Roger and Jane in Episode 9, "Dark Shadows"
This ex-couple may be separated, but they can't keep their hands off each other. At Jane's new apartment, Roger backs her against the wall and kisses her neck. She reciprocates his advances after a brief protest.
Harry and Lakshmi in Episode 10, "Christmas Waltz"
Lakshmi surprises Harry in his office, confessing, "I'm burning for you." Harry resists but returns the kiss when she assures him it's permitted by the Hare Krishna movement.
Don and Peggy in Episode 11, "The Other Woman"
Peggy tells Don it's time for her to move on. When she extends her hand to say goodbye, Don presses it to his mouth and doesn't let go.
Roger and Marie in Episode 13, "The Phantom"
Locked in an embrace, Roger and Marie burst through the doors of his hotel room. "I hoped that you would call," she admits after he throws her onto the bed and showers her with kisses.
Don and Megan in Episode 13, "The Phantom"
Dressed as "Beauty," Megan gives Don an adoring peck while on the Butler commercial's set. "You know I love you," she tells him with a smile, then turns for makeup as Don walks off alone.
Click here to read about memorable kisses from previous seasons of Mad Men.
Read More