Mad Men Season 3 Returns On-Air This Sunday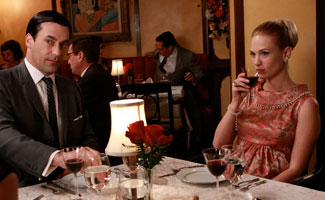 Ready to kick off the new year right? Start with the first episode of Mad Men's third season. This Sun., Jan. 6 at 7AM/6c, the first episode of Season 3 ("Out of Town") returns for an encore presentation on AMC. From then on, the Emmy-winning season will re-broadcast every Sunday at 6AM/5c with three memorable back-to-back episodes such as Episode 6, "Guy Walks Into an Advertising Agency" (in which a tragic accident occurs at Sterling Cooper) and Episode 11, "The Gypsy and the Hobo" (in which Betty discovers Don's big secret).
Click here to see Mad Men's complete on-air schedule on AMC.
Read More