Press
Mad Men on Top of THR, EW, and People's Best of 2012 Lists; EW Lauds Jessica Paré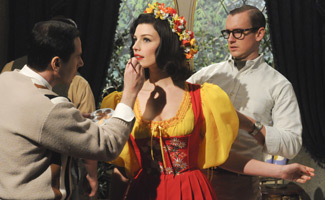 This week, Mad Men continues to dominate in the yearly best-of
retrospective lists, while Entertainment Weekly can't get enough
of Jessica Paré's breakthrough performance as Megan. Read on for more Mad Men news:
• Mad Men is The Hollywood Reporter's No. 2 show of the year: "It's hard to depict 1965 without falling into rote imagery and concerns, and this series deftly avoided those pitfalls."
• People also puts Mad Men at No. 2 because it "hit a stretch of greatness in Season 5." [No link]
• Entertainment Weekly rates Mad Men one of the year's top five shows, describing Season 5 as "unbuttoning in the 1960s, with characters taking trips both geographical and chemical."
• Entertainment Weekly also praises Jessica Paré for her Season 5
performance; she "infused Megan with passion and compassion, purity and
purpose." [No link]
• Mad Men lands No. 2 on Salon's Blue Glow Awards because "it remains the best thing on television: smarter, deeper, sadder, weirder than any of its competitors."
• The Miami Herald names Mad Men one of the year's best because the drama is a "fascinating panorama of the entropic decline of a tiny societal bubble."
• Slate's top TV moments of the year includes Lane sitting in his new Jaguar in Episode 12, "Commissions and Fees."
• In its list of 2012's best TV, Wired calls Season 5, Episode 11, "The Other Woman" a "nearly perfect episode of television."
• Variety assesses Jon Hamm's chance at winning the SAG award for best drama actor: "Don Draper remains the emotionally smoldering center of Mad Men." [No link]
• Entertainment Tonight flashes back to Mad Men's and Jon Hamm's wins at the 2008 Golden Globes.
• StyleList's best dressed list of 2012 includes Kiernan Shipka (see slides 41 and 42 in the slideshow), heralded for "her sweet dresses and pastel color palette."
• New York Magazine highlights a Christmas card featuring Don and this greeting: "What you call Christmas was invented by guys like me to sell cards."
• To stay up-to-date with all the latest Mad Men news, sign up for the weekly Mad Men Memo.
Read More