Press
Jon Hamm Lands Golden Globe Nomination; Mad Men Named Top 2012 Television Show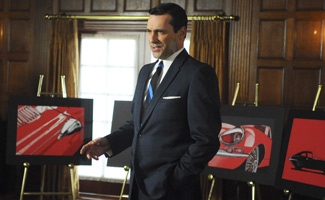 This week, Jon Hamm snags a Best Actor Golden Globe nomination and hosts a "We Hate Hurricanes" benefit, while Mad Men is named one of 2012's best TV shows by The Washington Post and The Huffington Post. Read on for more Mad Men news:
• The New York Times reports on Mad Men receipt of one of AMC's three Golden Globe nominations as Jon Hamm is named a contender for Best Drama Actor. Deadline, the Los Angeles Times, and E! also cover the news.
• The Washington Post names Breaking Bad, Mad Men and The Walking Dead the top three TV shows of 2012. The Huffington Post also ranks Mad Men as one of the year's 10 best TV shows. (Breaking Bad made the list too.)
• Entertainment Weekly provides details about Jon Hamm's hosting of the "We Hate Hurricanes" benefit earlier this week.
• Mad Men (and Breaking Bad and The Walking Dead) received awards from the American Film Institute for outstanding achievement in television, according to the Los Angeles Times.
• New York Magazine mourns Lane Pryce in an article about the loss of TV characters this year.
• Jon Hamm chats with Metro about working with Daniel Radcliffe on A Young Doctor's Notebook. The Huffington Post's review calls Hamm's performance "a reassuring presence."
• In a video interview with New York Magazine, John Slattery proposes a role for Zach Gilford, his In Our Nature co-star, on Mad Men.
• Cincinnati.com reports that Breaking Bad, followed by Mad Men, was the top time-shifted TV show of the year, according to Nielsen.
• Go to Screen Rant to vote for Mad Men as the best TV series of the year.
• To stay up-to-date with all the latest Mad Men news, sign up for the weekly Mad Men Memo.
Read More