Press
Jon Hamm, John Slattery to Direct In Season 6; Mad Men Is Rolling Stone's Top 2012 TV Moment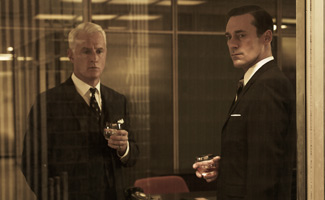 This week, news of John Slattery and Jon Hamm's plans to direct episodes in Season 6 hits the press, while Rolling Stone credits Mad Men with the number one TV moment of the year. Plus, Mad Men is in the running for this year's Satellite Awards. Read on for more:
• John Slattery tells The Hollywood Reporter he will direct two Season 6 episodes. Entertainment Weekly reports that Mad Men's Jon Hamm will also direct in Season 6. ScreenCrush is excited about Hamm and Slattery's episodes, proclaiming them to be "in good hands."
• Rolling Stone ranks Roger Sterling's acid trip as the number one TV moment of the year, saying, "Mad Men just keeps peaking creatively and is still far ahead of anything else out there on TV." [No link]
• John Slattery chats with The Huffington Post about Mad Men and his new movie, In Our Nature, which hits theaters today.
• The Hollywood Reporter covers Mad Men's nomination for two Satellite Awards this year.
• New York Magazine praises Mad Men for sustaining "ambition, lyricism, and depth from week to week." [No link]
• VH1 celebrates Jessica Paré's 30th birthday with a photo gallery of some of her hottest moments.
• Jon Hamm anticipates being "eviscerated for my horrible attempt" at an English accent in A Young Doctor's Notebook, according to The Huffington Post.
• Check out Vulture's holiday gift guide featuring Mad Men fan T-shirts.
• Mad Men's Sally Draper makes New York Magazine's Kids of the Year list. [No link]
• Daniel Radcliffe reveals a bathtub mishap from his Young Doctor scene with Jon Hamm, according to Hollywood.com.
• Collider.com suggests Jon Hamm is in contention for the lead role for a new comedy, Epic Fail, in which he'd play a high school teacher who hires two of his students to kidnap his wife.
• Mad Men has picked up a CableFAX award in the Best U.S. Show Across Borders category.
• Daily Mail has photos of Elisabeth Moss and Jon Hamm on a lunch date in New York City.
• Daily Mail also reports on the popularity of Mad Men's Betty Draper, a recent inspiration for baby names.
• Business Insider encourages fans to "be bold like Peggy" in its 5 Unexpected Workplace Lessons from Mad Men.
• NewsUSA has fabric care tips from Mad Men's costume designer, Janie Bryant.
• Check out stupidDOPE.com's photos of Mad Men stars as comic book characters.
• Isthmus tells Mad Men fans how they can win tickets to the Mad Men Holiday Soiree at the Majestic Theatre on Dec. 15.
• Brisbane Times includes Mad Men on their list of Best TV shows of 2012.
• To stay up-to-date with all the latest Mad Men news, sign up for the weekly Mad Men Memo.
Read More