Press
Mad Men Actors Take to the Big Screen This Winter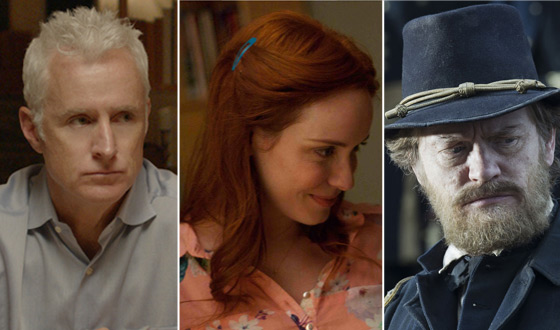 Missing your favorite Mad Men stars during the off-season? While you wait for Season 6, you can see several of the show's actors in movies playing at a theater near you. Below is a list of current movies, upcoming movies, and movies coming out on DVD.
Jared Harris, Lincoln
In theaters: Currently
Number-crunching Lane Pryce may have been more of a behind-the-scenes guy at SCDP, but in Steven Spielberg's latest drama, Harris plays a man on the front lines: Ulysses S. Grant. He joins the Daniel Day-Lewis as President Lincoln on the Civil War battlefield.
John Slattery, In Our Nature
In theaters: Currently
Roger Sterling is a known ladies' man, so it's not surprising that the actor who plays him has another young and beautiful woman on his arm here. Slattery's character, Gil, and his lady friend unintentionally share a vacation home with Gil's son and his girlfriend in this rom-com.
Christina Hendricks, Struck by Lightning
In theaters: Jan. 11
Joan knows exactly how to knock a man off his feet, and April (played by Hendricks) does just that in this coming-of-age comedy. Hendricks plays the pregnant and soon-to-be step-mom of Carson Phillips, played by Glee star Chris Colfer.
Jon Hamm, Friends With Kids
On DVD: Currently
In this hard-hitting comedy, Hamm shares the screen once again with several former Bridesmaids stars. Love to drool over TV's leading male sex symbol? His role as the sex-obsessed Ben is sure to keep you entertained.
Vincent Kartheiser, Rango
On DVD: Currently
Remember Pete Campbell reading Goodnight Moon to his daughter? That might have been inadvertent prep work for his roles as both Ezekiel and Lasso Rodent in this animated movie about a Western chameleon voiced by Johnny Depp.
Rich Sommer, The Giant Mechanical Man
On DVD: Currently
Sommer stars as Brian in this offbeat indie, a love story concerning a silver-painted street performer and a zoo worker. Hmm… What kind of commercials could Harry Crane pair with that plot as head of SCDP's television department?
Alison Brie, The Five-Year Engagement
On DVD: Currently
Trudy may be a traditional housewife in the Mad Men world, but in this flick, Brie plays a woman who gets pregnant at her sister's engagement party and winds up interrupting the nuptials. Listen out for Brie's British accent!
Jay R. Ferguson, The Lucky One
On DVD: Currently
Maddicts who love him as the jokester Stan Rizzo can now catch Ferguson in a more buttoned-up role: He stars as Sheriff Deputy Keith Clayton, the son of the town's judge and mayoral hopeful.
Peyton List, Meeting Evil
On DVD: Currently
In this thriller, List takes a turn as the scandalous Tammy Strate, secret girlfriend of John Felton (Luke Wilson). She's on the run from a murderous psychopath — and it's not a bad LSD trip!
Read More