Uncategorized
Q&A – Frank Ockenfels (Gallery Photographer)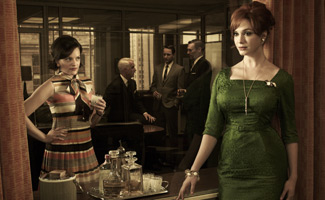 Frank Ockenfels is the photographer for AMC's original series key art and gallery photography. In this exclusive interview with AMCtv.com, he reveals the key to capturing a character's personality in one frame and talks about happy accidents on set.
Q: You've shot a number of AMC shows: Mad Men, Breaking Bad, The Walking Dead, The Killing, and Hell on Wheels. Which show was your first?
A: I first did Mad Men, and I was asked to work on The Killing and Hell on Wheels. I was asked then to do Breaking Bad and, while we were on Breaking Bad, there was a conversation about working on The Walking Dead. I did all five shows last year. As a photographer, you shoot a lot of things and sometimes it's just the same thing over and over. I like when everything is different, so I've been very lucky working with AMC.
Q: How much do you know about a show's upcoming season when you shoot the art for it? Is it tougher for Mad Men because it's so under wraps?
A: They tell us the year and then it stops! [Laughs] Matthew Weiner is amazing because he really does like to keep it a secret, which is great, and I think it makes it a challenge. That's the fun part — it's kind of like being on a treasure hunt.
Q: What is the creative process for the key art shoots? How is it different for the gallery photography shoots?
A: With the key art, you're fleshing it out and trying to make it bigger and bigger. You're really polishing an amazing idea that's been handed to you. With the gallery, you're doing these scenarios and you're trying to tell stories, but subtly. We've always tried to shoot pictures that feel "of the time."
Q: What's been your favorite shoot location or setting?
A: Making the tank for Mad Men Season 3 key art was pretty amazing because no one ever does that anymore. [I love them all because] you can go on the sets of Breaking Bad and find a warehouse, or build a set scenario to sit in for Hell on Wheels. For The Walking Dead, to go down to the set and be entrenched in the same 90 percent humidity, standing there with Andrew [Lincoln] taking his picture and you're feeling the exact same sweat and grime; it's great! They're all different and unique experiences.
VIDEO: Inside Mad Men Making of the Season 3 Poster
Q: How do you capture the personality of the characters in just one frame?
A: You wait for that moment for them to really look at you. Actors get shot a million times, over and over again, and it's amazing when they look at you and you see the character. You wait for that beat, that breath, and everything else disappears — they become that person for that moment. All the actors in all the shows "play". Across the board, I don't think I've ever had the experience of any actor come in and not be the character. They get the point that the photograph is going to go out and be their character representing their show. I've shot Jon [Hamm] separately from being Don; it's a very different experience.
Q: Do you storyboard ahead of time? How do you decide how to pose your subjects?
A: Posing, probably not as much, but I would say we have the idea. Like any director doing anything with an actor, if you show them exactly what to do, it's not going to be right. You need to let them present something back to you once you've placed them in the situation they're in. You have to trust the people you're working with.
Q: You've done a lot of work shooting art for movies and musicians. Do you enjoy coming back to a TV series?
A: I enjoy doing the TV stuff, especially with AMC because of the storytelling. There's a norm to doing TV advertising and [AMC] has a drive to make people see things differently. If you look at all the shows that AMC has, they're not your typical shows. Everything takes a little more of a thought process, and it's like mini-movies every week.
Q: Do you have a favorite single shot from the photography you've done for AMC?
A: That's a tough one! There are pure moments and then there are happy accidents. It's funny because the camera broke when we were shooting Jon [Hamm] in the tank for Mad Men. It did this really bizarre thing, and he's in the water, and the camera's just fragmenting the image. The water was rising so it kind of went with the whole disaster of what we were trying to create. I've taken so many pictures, and it's not the perfection, but knowing that it was honest.
Click here to read an interview with Emmy-nominated Mad Men production designer Dan Bishop.
Save
Read More