Press
Jon Hamm to Host Hurricane Sandy Benefit; Mad Men Nominated for Producers Guild Award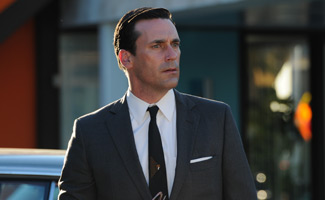 This week, Deadline Hollywood announces that Jon Hamm will serve as Master of Ceremonies at a comedy benefit, while Mad Men producers receive their fourth PGA nomination. Plus, check out Indiewire's exclusive clip of John Slattery's new movie. Read on for more Mad Men news:
• Deadline Hollywood reports that Jon Hamm will join stars like Sarah Silverman and Will Ferrell as he hosts "We Hate Hurricanes," a Dec. 10 comedy benefit to aid those affected by superstorm Sandy.
• E! reports on Mad Men's nomination for the Norman Felton Award for Outstanding Producer of Episodic Television, Drama. The L.A. Times, Deadline, GoldDerby, The Wrap, and Variety also cover the news.
• Check out Entertainment Weekly's video of Jon Hamm offering a glimpse at the "darkly comic" situations in his upcoming miniseries, A Young Doctor's Notebook. Indiewire calls Notebook "a fascinating looking project."
• The New York Times shares a photo of Elisabeth Moss wearing Louis Vuitton in their "Styled To a T" column.
• The Hollywood Reporter announces Kiernan Shipka will guest star in Disney's new animated series, Sofia the First.
• Indiewire has an exclusive clip of John Slattery and Gabrielle Union from their new movie, In Our Nature.
• ScreenCrush features Jon Hamm on their "Way Back When" list and takes a look back at his older film and television roles.
• Check out Just Jared's red carpet photos of Kiernan Shipka at the Life of Pi screening.
• The Examiner reveals new information about Christina Hendricks' collaboration with Ryan Gosling, How to Catch a Monster.
• To stay up-to-date with all the latest Mad Men news, sign up for the weekly Mad Men Memo.
Save
Read More