Press
Kiernan Shipka Kisses E.T. for Harpers Bazaar; Independent Reveals Jon Hamm's Inner Nerd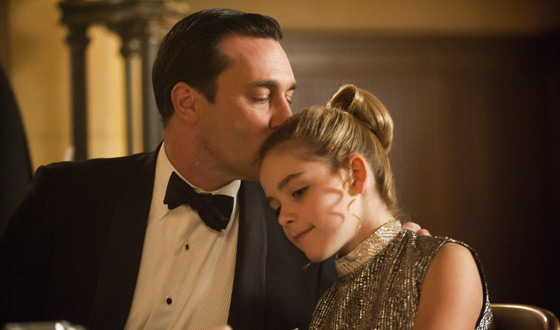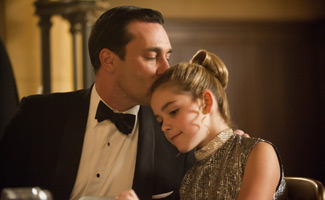 This week, Kiernan Shipka takes part in a tribute to Steven Spielberg, while The Independent trumpets Jon Hamm's upcoming project with Daniel Radcliffe. Plus, The Orlando Sentinel notes Jared Harris' formidable presence in Spielberg's Lincoln. Read on for more Mad Men news:
• A Harper's Bazaar tribute to Steven Spielberg uses Kiernan Shipka to re-create the iconic moment where Gertie kisses E.T. in E.T. the Extra-Terrestrial.
• In an article breaking down A Young Doctor's Notebook, The Independent reveals that both Jon Hamm and Daniel Radcliffe are "genuine nerds for Bulgakov," and the four-part series was Hamm's idea in the first place.
• The Orlando Sentinel marvels at Jared Harris' range in an article about the TV actors in Steven Spielberg's Lincoln.
• The Huffington Post notes Mad Men is one of the TV shows featured in The Revolution Was Televised: The Cops, Crooks, Slingers and Slayers Who Changed TV Drama Forever, by HitFix's Alan Sepinwall. The New Yorker calls the book "a smart and substantive walk through the past fifteen years of television drama."
• Courtesy of ComingSoon.net, watch Elisabeth Moss in a trailer for On the Road, hitting theaters on Dec. 21.
• /film commends some of the scenes in the trailer for In Our Nature, starring John Slattery, for their "appealingly unvarnished honesty."
• The Sydney Morning Herald profiles Joel Murray, noting that the actor, like Freddy Rumsen, is "genuinely likeable."
• To stay up-to-date with all the latest Mad Men news, sign up for the weekly Mad Men Memo.
Read More