Press
People Names Jon Hamm, John Slattery Sexiest Men Alive; Jessica Paré Is THR Top Beauty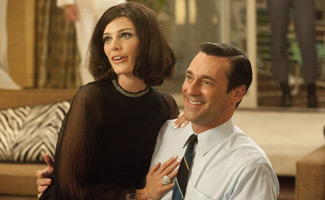 This week, Jon Hamm and John Slattery take home the honor of representing their home states as People's sexiest men alive, while The Hollywood Reporter proclaims Jessica Paré's "Zou Bisou Bisou" look one of the year's top beauty moments. Plus, check out video of Jon Hamm in a trailer for A Young Doctor's Notebook with Daniel Radcliffe. Read on for more Mad Men news:
• People dubs Jon Hamm the Sexiest Man Alive from Missouri, while John Slattery wins the same honor for Massachusetts.
• The Hollywood Reporter lists Jessica Paré's "'60s seductress" look as one of their Top 25 Beauty Moments of 2012, and includes tips on how to get the look for yourself. [No Link]
• The Hollywood Reporter showcases a trailer for A Young Doctor's Notebook that features Jon Hamm and Daniel Radcliffe "in a variety of compromising positions."
• Vincent Kartheiser waxes philosophical to New York Magazine about getting punched in the face — and about his new film, Beach Pillows.
• Christina Hendricks raves to E! Online about Ryan Gosling, who will be making his directorial debut with How To Catch a Monster.
• Deadline Hollywood reports that Alison Brie joins Will Ferrell and Liam Neeson in the cast of the Lego animated film.
• The (Montreal) Gazette reflects on how "Mad Men is not a show about what happens so much as it is about why people act as they do, about why things happen."
• Check out Fast Company to see Kiernan Shipka making gluten-free waffles in a how-to video on the new app for the NYC bakery, BabyCakes.
• To stay up-to-date with all the latest Mad Men news, sign up for the weekly Mad Men Memo.
Read More