Press
THR Photo of Jon Hamm, Daniel Radcliffe Sharing a Bath; Buzzine Calls Mad Men King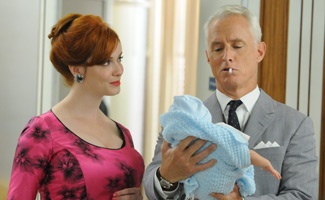 This week, Mad Men meets Harry Potter in a bathtub photo, while Buzzine provides many reasons for naming Mad Men one of its Top 5 Period Dramas. Plus, The Sydney Morning Herald uses Joan Harris as an example of realistic female television characters. Read on for more Mad Men news:
• The Hollywood Reporter has a photo from A Young Doctor's Notebook of Jon Hamm and Daniel Radcliffe together in a bathtub. Radcliffe says of the scene, "It was great, because you know you are the envy of every woman ever."
• Buzzine calls Mad Men the "king of period dramas" and credits the series with having "infectious style."
• The Sydney Morning Herald celebrates Mad Men's Joan Harris in an article about the advent of television's female "fully realised dramatic characters."
• The Telegraph's review of the Season 5 DVD calls Mad Men "one of the finest things on television: a clever, wonderfully languorous exploration of the era's social upheaval."
• Sam Page, who played Greg Harris, will make an appearance on ABC's Last Resort, according to TVLine.
• TVLine reports that Abigail Spencer (Suzanne Farrell) will return to USA's Suits in Season 2.
• To stay up-to-date with all the latest Mad Men news, sign up for the weekly Mad Men Memo.
Read More