Uncategorized
The Mad Men Fashion File – Season 5's Greatest Hits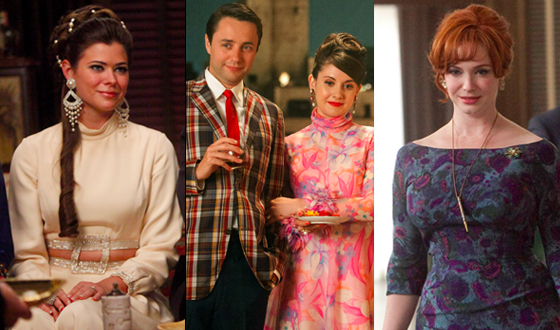 Thanks to encores on AMC, we can re-experience Mad Men's Season 5 storylines — and its brilliant array of period costumes. But honestly, some of the characters' outfits never left our minds. (Can't you just squeeze your eyes shut and still see Megan's peeping hemlines and Sally's after-school sweatshirts?) To honor this season's most iconic moments, I've selected one costume MVP for each episode. Click through to see the picks, including a scandalous cocktail dress, a retro fur stole, and (of course) the dinner jacket visible from space.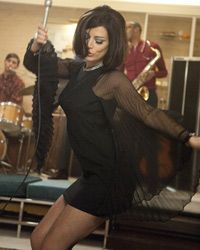 Episode 501-502, "A Little Kiss": Megan's Zou Bisou Bisou Dress
If anything reflects the generation gap prying Don and Megan apart, it's her jaw-dropping performance at his birthday party. First, Megan invites everyone to the new apartment — a move that completely breaches Don's intense need for privacy. Then she reveals her many talents with a sex-kitten performance that was sweet, sultry, and completely inappropriate in a room full of co-workers. Megan's oblivion — and utter glee — shine through her costume, a diaphanous black dress that's so short it nearly doesn't qualify as a dress. Black fishnets, low-heeled pumps, and incredible Cleopatra eye makeup complete the look. (If you'd rather sing the song than wear the dress, that's okay, too.)
Episode 503, "Tea Leaves": Betty's Blue Satin Dress
Betty's got a new house, a new husband… and a new body mass index. Her blue satin dress perfectly illustrates Betty's depression and stagnation: It's the dull, lifeless color of dishwater, and it's encrusted with clumsy pearlescent collars and cuffs, as if the affluence of Betty's current life is literally weighing her down. And, of course, the dress doesn't fit — something underscored in the following scene when Don zips Megan into her own patterned dinner dress, this one purple and zig-zagged, in a matter of seconds.
Episode 504, "Mystery Date": Joan's Roses
Joan wears a lot of roses, and they seem to always be tied up with her sexual and emotional viability. With Greg, we've seen them several times, including during her rape in Season 2 (when she wore brown roses), at the infamous accordion-playing party (when she wore a black dress with giant red roses around the collar, as if she herself was the centerpiece), and now when she welcomes her husband home from his Army stay. She's even wearing giant red earrings in the shape of blossoms. By the time she's kicked him out, she's changed into a sweet checked white shirt with tiny roses all over it, a small positive note.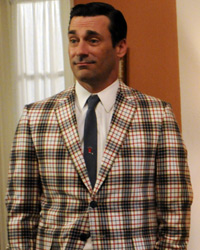 Episode 505, "Signal 30": Don's Crazy Plaid Blazer
Don is wearing a checkered dinner jacket. I repeat, Don is wearing a checkered dinner jacket. It's extremely loud, and incredibly close in style to the other men at the Campbells' dinner party, even though Don is their senior in both work and life. Megan got this blazer for Don, and you get the feeling that this is one of the few times he's ever willingly tried something a woman prescribed for him.
Episode 506, "Far Away Places": Peggy's Beige Top
I know, I know… You all want to discuss Megan's pink zig-zag coat or Jane's white goddess pantsuit. They're definitely the showier costume pieces in this episode, but Peggy's costume blends in — and that's the whole point. After her Heinz pitch is (once again) rejected by the client, she lies down on the SCDP couch for a break. Her vest is nearly identical in color and texture to the couch's upholstery fabric. Lying on top of it, she almost disappears. In Season 4, Peggy's outfits were the same color scheme as the office: she belonged to it, and it to her. This season, that same office is visually swallowing her.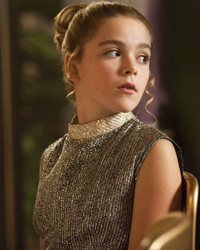 Episode 507, "At the Codfish Ball": Sally's Metallic Dress
This episode was all about the cycles of parents and children — some vicious, some vital. So who better to bring that theme to the forefront than Sally Draper in a silvery sheath dress and white Go-Go boots that scream, "Megan is my step mom!" Besides showing the period's Youthquake look and highlighting the influence of the newest Mrs. Draper, this outfit also hints at Sally's emerging maturity. As Mr. Calvet says, "No matter what, one day your little girl will spread her legs and fly away." It's always brilliant when Mad Men pairs a Freudian slip with a slip dress — well done, team!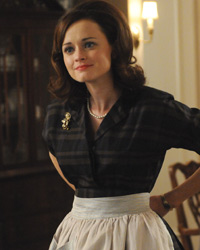 Episode 508, "Lady Lazarus": Beth's Apron
Here's the thing about Beth: She's not unusual because she dresses like Betty. She's unusual because she dresses like Betty… even though she's several years younger than Betty! Generally, "wives" on Mad Men wear clothes appropriate to their age, and even when Jane or Trudy chooses something more conservative, it's still in a vivid color or a sexy, form-fitting shape. On the other hand, Beth looks like a little girl playing house, right down to the dainty gold wristwatch, the dark confining blouse, and the apron which cinches both her waist and her role as a trapped, domesticated doll. The effect is disconcerting, as is her behavior, vacillating between innocently frightened and carnally indulgent.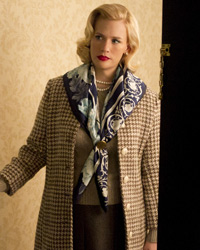 Episode 509, "Dark Shadows": Betty's Tweed Overcoat
We knew it was coming: a fashion face-off between Megan and Betty. This episode didn't disappoint, as it finally brought Betty into Don's new digs, and also face-to-face with his new wife. Megan looks beautiful, as always, and comfortably modern in flared pants and bare feet. Meanwhile, Betty's tweed overcoat tells us everything: she's an unwelcome visitor in what might have been her home, she's embarrassed at the size of her body, and she's become an even stricter parent in comparison to Megan's free-to-be style with the kids. She also must be uncomfortably hot under the collar — both figuratively and literally — since we assume Don's penthouse has a working furnace.
Episode 510, "Christmas Waltz": Paul Kinsey's Hare Krishna Costume
Um, hello, PAUL KINSEY IS WEARING A HARE KRISHNA UNIFORM. No contest.
Episode 511, The Other Woman: Joan's Black Mink Stole
When Roger Sterling gave Joan Holloway her very first fur way back in the '50s, it was the same black stole she's now wearing for her big indecent proposal with the Jaguar executive. It represents so much: sexual commodity, female power and insecurity, and (like Beth and Jane, both of whom have worn fur during pivotal scenes this season) allusions to strong female spirits caged in male-created luxury.
Episode 512, Commissions and Fees: Glen's Orange Lined Blue Duffel Coat
I went to a New England boarding school in the late '90s — these coats were still cool when I was there. And it looks completely natural on Glen, circa 1966. Every so often, you find a style staple that doesn't change! (If you still want one, you can buy them at lots of Army-Navy stores.)
Episode 513, The Phantom: Joan's Red Dress
Joan wears a siren-red dress and stands in the middle of the SCDP partners moments after literally breaking new ground with a can of red spray paint. Is this new view from the top worth it for her? We don't know yet, but with this one shot and this one dress, we know the workplace landscape has changed for good.
Click here to read a Fashion File analysis for every Season 5 episode.
Read More