Press
NY Mag Interviews Jon Hamm and Vincent Kartheiser; Jared Harris Chats With NBC & ET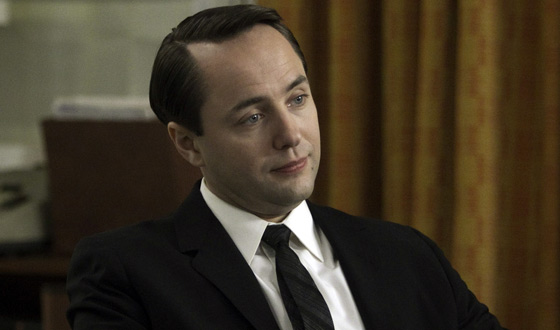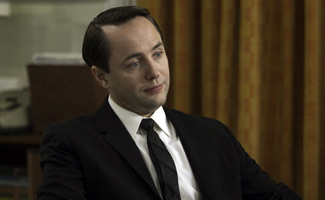 This week, New York Magazine speaks with both Jon Hamm and Vincent Kartheiser, while Jared Harris discusses Lane's Season 5 character arc with NBC and Entertainment Tonight. Read on for more Mad Men news:
• Jon Hamm and Jennifer Westfeldt talk baseball (and competition) with New York Magazine.
• Vincent Kartheiser then tells New York Magazine about the time he beat Hamm at dominoes three times in a row.
• NBC checks in with Jared Harris, who discusses what he'll miss about Mad Men, including Turkish coffee at lunch. Harris also speaks with Entertainment Tonight about the price of Lane's suicide.
• Mad Men makes New York Magazine's list of TV's most devoted fan bases, along with Star Wars and Oprah. A badge for Mad Men "fandom" is available for download.
• According to The Hollywood Reporter, Jon Hamm and Adam Scott "transcended the boundaries of time, narrative and facial hair" in The Greatest Event in Television History. Entertainment Weekly pronounced it "amusing and extremely handsome." Hamm and Scott explain the genesis of the event to New York.
• Elisabeth Moss compares careers with Downton Abbey's Michelle Dockery for Interview.
• Matthew Weiner speaks with The Takeaway about using "the real-world events of the Cuban Missile Crisis to examine his characters' lives" in the Season 2 finale.
• TV Overmind posts a gallery of "Don Draper's best expressions."
• Jon Hamm speaks with The Guardian about his upcoming production, A Young Doctor's Notebook, co-starring Daniel Radcliffe.
• Christina Hendricks, interviewed by The Independent about a new film, raves about Janie Bryant.
• The Ottawa Sun asks Brian Scolaro about his role in Mad Men's Season 5 premiere, where he played the owner of the wallet that Lane found.
• Blu-rayDefinition's review calls the Season 5 Blu-ray set a great way to watch the season. DVD Talk's review declares Mad Men to be "the best show on television right now." OK! Magazine considers Season 5 its "favorite season yet."
• Multichannel News reports that AMC has been inducted into the Cable & Telecommunications Association for Marketing Hall of Fame, due to the marketing of Mad Men.
Read More