Press
Matthew Weiner Named THR Top Showrunner of 2012; Christina Hendricks on Glamour UK Cover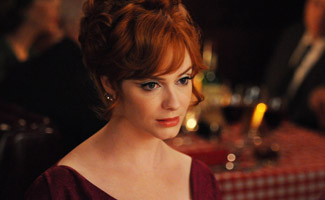 This week, Matthew Weiner is featured on The Hollywood Reporter's list of TV's top 50 showrunners, and Christina Hendricks graces the cover of next month's Glamour UK. Read on for more Mad Men news:
• Matthew Weiner, featured in The Hollywood Reporter's list of the top 50 showrunners, reveals which Don Draper trait came directly from his own life.
• My Fashion Life showcases Christina Hendricks — "rocking an orange, printed dress" — on the cover of Glamour UK. Glamour also goes behind the scenes of the Hendricks cover shoot.
• Speaking with The Hollywood Reporter, Daniel Radcliffe calls Jon Hamm "really funny and incredibly personable," but "also one of the best technical actors." Radcliffe also tells The Sun he'd like to play a young Don Draper on Mad Men.
• The Huffington Post applauds Mad Men as "the most assiduously researched and painstakingly accurate show on television, possibly ever."
• Ben Feldman tells his alma mater's paper, The Ithacan, exactly why he's a Mad Men fan.
• Read the NY Times obituary for Madison Avenue ad-man Stephen Frankfurt, President of Young & Rubicam in 1967.
Read More