Uncategorized
The Mad Men Fashion File's Halloween Costume Guide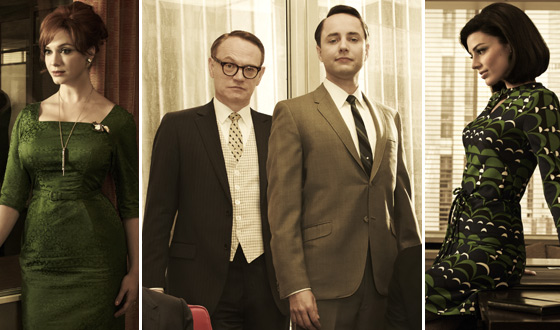 If you've always wished you could dress like a Mad Men character and have been searching for the perfect opportunity, Halloween is a timely option. Not only can you imitate one of the show's iconic styles, you can really go all out: hair, makeup, candy cigarettes, maybe even a homemade SCDP business card. Here are three Halloween looks inspired by Mad Men — make sure you tweet @MadMen_AMC with a picture of your costume triumph!
The Youthquaker: Taking a cue from Megan's miniskirts and Sally's moon boots, this costume is fun, flirty, and perfect for the dance floor.
Dress: You need a really short hemline for this look. If it's long enough to pass a school dress code, it probably won't work here. Look for baby-doll dresses with fluted or bell sleeves. This Alice + Olivia dress combines the perfect '60s silhouette with a psychedelic pattern, but it's about $400. If you're not shopping with Megan's budget, try this ASOS version for $40 instead.
Accessories: Amazon sells $50 white shiny go-go boots, and Marc Jacobs has a high-fashion version for about $640. Pair them with giant plastic earrings and a candy-colored clutch. (Since it's Halloween, you can add a Ring Pop, too!)
Makeup: Black liquid eyeliner, false black eyelashes, and nude lipstick are mandatory! Try this Mad Men eye makeup tutorial from The Wall Street Journal to get the look.
The Sexy Secretary: Calling all current head-turners and future executive's wives… You're one promotion away from boogieing down on the glass ceiling.
Dress: You can get complicated with a tight pencil skirt and a busting-out blouse, but if you want to keep it simple, all you really need is an extremely form-fitting red dress. There are office-appropriate options (like this Outnet dress, $112) and sexier versions ($90 at Modcloth), so go with whatever makes you feel like the hottest woman in the building.
Accessories: Stilettos and a black purse for the basics, and grab your signature pen necklace for an extra punch. (A mink stole is another option…)
Makeup: Treat yourself to an updo at your favorite salon, or pull your hair into a simple chignon. Apply full eye makeup, red nail polish, and red lipstick, then knock 'em dead.
The Fab Four: Janie Bryant has said Glen's new haircut was inspired by Paul McCartney, and Pete Campbell's got a natty skinny tie just like John Lennon's. Take cues from both, get three of your friends together, and pretend you're on Ed Sullivan.
Suit: Skinny solid color with a clean white shirt and a very narrow tie. (Topman has them for $20 each.)
Grooming: Shag out your hair. That's pretty much it.
Props: Make fake backstage passes, then wear them yourselves and give them out to your cutest "fans."
Read More